Italy elected Member of the Committee for the Protection of Cultural Property in Armed Conflict and of its governing body
ALFANO: "GREAT RESULT, ITALY ELECTED TO THE COMMITTEE OF THE UNESCO CONVENTION FOR THE PROTECTION OF CULTURAL PROPERTY IN INTERNATIONAL CONFLICTS AND TO ITS GOVERNING BOARD "Italy's...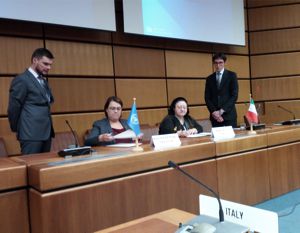 Austria - United Nations and Italy sign new agreements on outer space activities
New agreements give strong impulse to Italy's space sector and the opportunity to cooperate on new scientific and technological efforts to meet the challenge of space exploration,...
Italy-China step up their scientific and technological cooperation
Opening remarks at the eighth "Italy-China Science, Technology and Innovation Week" in Beijing were made by the Minister of Education, Universities and Research, Valeria...
Latest updates
INNOVATION AND RESEARCH ​
The Ministry of Foreign Affairs and International Cooperation (MAECI) is promoting the internationalisation of Italian research and scientific diplomacy as essential tools for developing cooperation between Italy and the rest of the world.
MAECI's policy stems from the conviction that there can be no economic development without innovation and support for scientific research.
Maintaining competitiveness in increasingly complex global markets requires the constant application of new technologies to production processes to make innovative, high added value products. This leads to an increasingly careful use of resources in this sector, as an investment in the growth of the country, especially in the most innovative sectors, with positive effects on economy and trade.