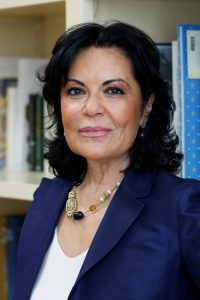 Ambassador Vincenza Lomonaco
Vincenza Lomonaco was was born in Praia a Mare (Cosenza) on April 12, 1957.
She graduated in Political Science from the University of Rome "La Sapienza" in 1979, and she joined the Ministry for  Foreign Affairs in 1982.
After an initial assignment at the Directorate General for Political Affairs – United Nations Office, in 1986 she served as First Secretary in the Italian Embassy to the Holy See.
From 1989 to 1993 she served as Consul in Montreal, Canada.
From 1994 to 2001, she led the Office of the Italian Cultural Institutes of the Directorate General for Cultural Cooperation and Promotion of the Ministry for Foreign Affairs.
From 2001 to 2004 she served as Head of the Secretariat of the Undersecretary of State, with responsibility for Latin American countries, for the Ppresidency of the National Commission for Italian Culture Abroad, and for the international organizations of the United Nations system.
From 2004 to 2006 she served as Diplomatic Advisor to the Minister for the Public Service.
From 2006 to November 2008, she worked at the Directorate-General for Italians Abroad and Migration Policies, in charge of the offices responsible for intercountry adoptions and humanitarian issues.
From 2008 to 2010, she served as Deputy Director General for Cultural Promotion and Cooperation.
In 2010 she was appointed Deputy Director General for the Promotion of the Country System with deputy functions / Central Director for the Promotion of Italian Culture and Language.
From 2013 to 2018 she served as Head of the Permanent Representation to UNESCO in Paris, with the title and rank of Ambassador. In April 2017 she was elected by UNESCO Member States as President of the Culture Commission of the 39th General Conference of the Organization.
In October 2018 she served at the Directorate-General for Development Cooperation.
In April 2019, she was appointed Head of the Permanent Representation to the UN in Rome, with the title and rank of Ambassador, until June 2022.
In January 2021 she was promoted to the rank of Ambassador.
Since July 1, 2022 she has been serving as Director General for Global Affairs.
In January 2020 she was also conferred an Honorary Degree in Communication and Art Didactics by the Brera Academy of Fine Arts in Milan.