VV19 flight: a new success for Vega
Flight VV19 successfully put Pléiades Neo 4 into a heliosynchronous orbit together with four ride-share microsatellites, including one from Rome's "La Sapienza" University.Kourou (French Guiana), 16 August 2021 -...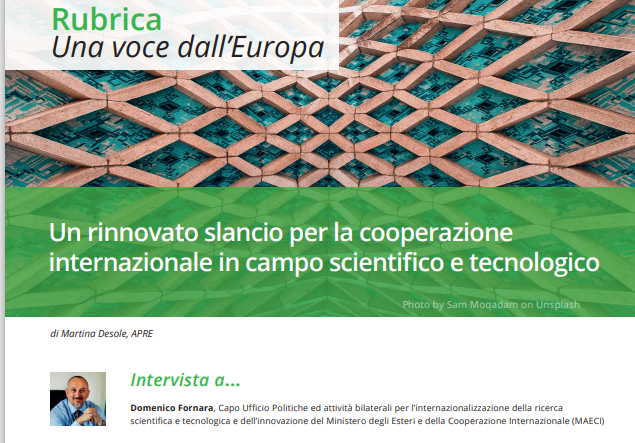 Il futuro è nella cooperazione scientifica e tecnologica tra Stati
''La pandemia con la sua drammatica capacità di incidere sulle nostre vite e sulle nostre economie ci ha mostrato quanto sia importante potenziare la cooperazione...
Nuovo Ufficio a Roma dell'Istituto Forestale Europeo
L'Ambasciatore d'Italia ad Helsinki, Sergio Pagano, ha firmato insieme al Direttore dell'Istituto Forestale Europeo (EFI), Marc Palahi, un Accordo per l'istituzione...
Norvegia, un webinar sulla ricerca italiana nell'Artico
L'Ambasciata d'Italia ad Oslo e l'Istituto Idrografico della Marina Italiana hanno organizzato un webinar per l'11 luglio prossimo sulla ricerca italiana nell'Artico....
Latest updates
INNOVATION AND RESEARCH ​
The Ministry of Foreign Affairs and International Cooperation (MAECI) is promoting the internationalisation of Italian research and scientific diplomacy as essential tools for developing cooperation between Italy and the rest of the world.
MAECI's policy stems from the conviction that there can be no economic development without innovation and support for scientific research.
Maintaining competitiveness in increasingly complex global markets requires the constant application of new technologies to production processes to make innovative, high added value products. This leads to an increasingly careful use of resources in this sector, as an investment in the growth of the country, especially in the most innovative sectors, with positive effects on economy and trade.