Available resources: 900 million euros to refinance the Fund 394/81 (of which up to 300 million euros to strengthen the Fund non-repayable component).
Fund 394/81, managed by SIMEST on behalf of MAECI, is the instrument through which – under a "de minimis" aid scheme – low-interest loans are granted for the implementation of seven types of programmes to support the internationalisation of companies: 1) participation in international trade fairs, exhibitions and system missions; 2) carrying out feasibility studies; 3) development of e-commerce solutions; 4) opening of commercial structures; 5) implementation of technical assistance programmes; 6) strengthening of the equity strength of exporting SMEs; 7) insertion of a Temporary Export Manager (TEM) in the company.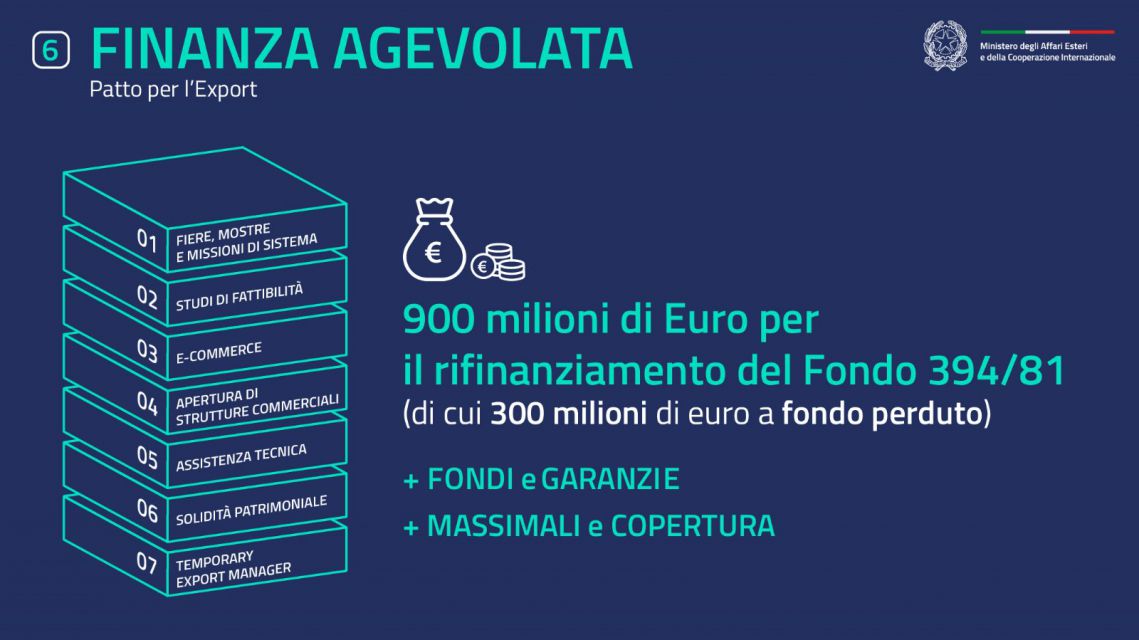 Main news:
+ FUNDS AND + GUARANTEES: until 31st December 2020, it is possible to obtain liquidity at Facilitated Rate without the need to present guarantees; from 15th June it is possible to request up to 40% of the non-repayable financing.
+ CEILINGS AND + COVERAGE: the increase in ceilings in all the facilitation measures of the 394/81 fund is approved and the extension of the operation of concessional financing to projects in EU countries (hitherto excluded from the scope of intervention) is approved.
On 15th June, SIMEST – on a mandate from MAECI – launched a Communication Campaign on concessional financing to maximise awareness and use of the tools available to them in the process of internationalisation among businesses - mainly SMEs.
*********
In-depth links:
• https://www.sacesimest.it/media/comunicati-e-news/dettaglio-comunicato/finanziamenti-simest-fino-al-40-a-fondo-perduto.-parte-campagna-di-comunicazione
• https://www.sacesimest.it/soluzioni/dettaglio-categoria/dettaglio-prodotto/finanziamenti-agevolati