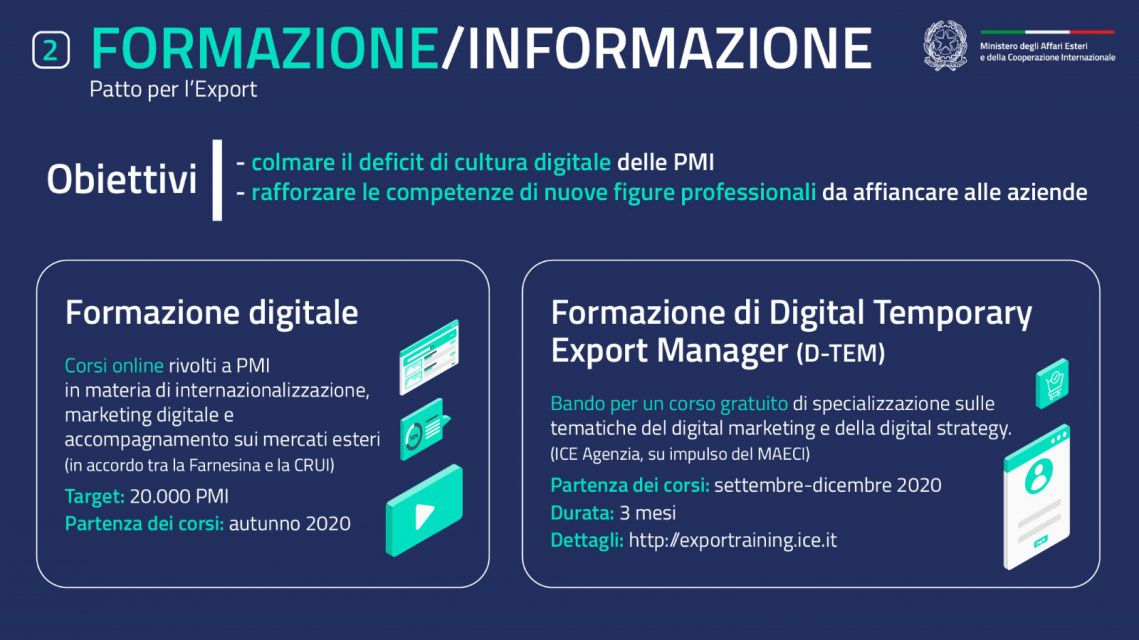 TRAINING
Objectives:
filling the digital culture deficit of SMEs

strengthening the skills of new professional figures – such as Temporary Export Managers (TEM) and Digital Export Managers – to support companies especially in the most strategic phases of approaching a foreign market.
There are three strands of activities and initiatives launched in the field of training.
1) Digital training: an agreement is being finalised between the Foreign Ministry and CRUI (Conference of Deans of Italian Universities) for the creation of online courses for SMEs on the themes of internationalisation and accompaniment on foreign markets, Digital innovation, Technology 4.0 and more generally on digital marketing.
Target: 20,000 SMEs

Start of courses: autumn 2020
2) Training of Digital Temporary Export Manager (D- TEM): ICE Agency, at the instigation of MAECI, has launched a call for proposals to allow 100 professionals to refine their managerial skills in the digital field through free participation in a specialisation course on digital marketing and digital strategy.
Obijective: training human resources to be made available to companies
Start of courses: September-december 2020
Duration: 3 months
Details and links for submission of applications:
http://exportraining.ice.it/it/attivita-e-servizi/lista-corsi/377-d-tem-academy-per-professionisti.html
Note for further information
*****
The 100 selected professionals, once the courses have been completed, will be able to propose themselves to assist, with innovative tools, Italian companies in the definition of an internationalisation strategy, operating as digital temporary export manager (D -T.E.M), according to the modalities and procedures indicated by the competent administrations.
3) Again on the subject of Temporary Export Manager, incentives are coming in for temporary placement in Temporary Export Manager (TEM) and Digital Export Manager (DEM) companies financed thanks to the funds of the Extraordinary Plan for Made in Italy.
The measures will be implemented thanks to an operational agreement between MAECI and Invitalia, identified as the managing entity.
Financial resources allocated for this activity: 50 million euros

All details will be available on the Foreign Ministry and Invitalia websites.
In-depth note
*****
The Temporary Export Manager is a professional and experienced resource that "temporarily" supports the company to promote the achievement of profit objectives abroad through a precise planning of the entire export process: from the analysis of the product, to the identification of the market in which to expand to the drafting of a real business plan (actions, results, costs).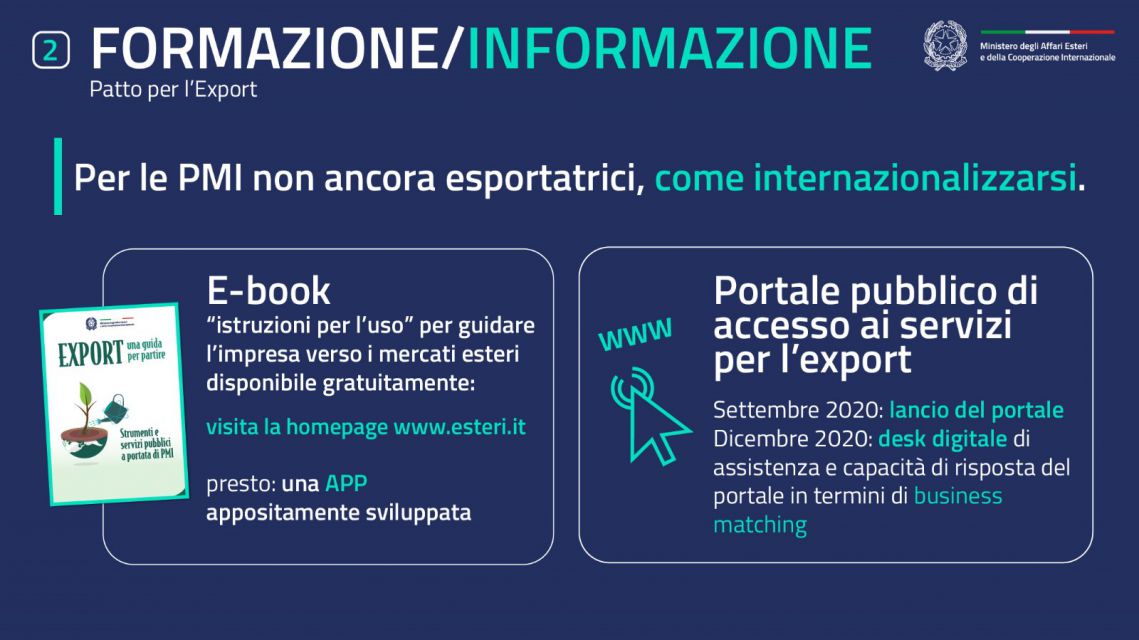 INFORMATION
Objective: to facilitate and encourage access to the range of public instruments in support of internationalisation for a wider range of SMEs, including those not yet exporting.
Instruments/actions put in place:
1) Creation of an e-book containing the mapping of public export accompanying instruments and services, especially for SMEs that are not yet or permanently present in foreign markets. A sort of "instructions for use" to guide the company towards foreign markets. A step-by-step path, in which the main tools, initiatives and real services that the enterprise can access, both at central and territorial level, in terms of training, information, guidance and financial support, have been presented for each phase.
The e-book is available free of charge on the Foreign Ministry website: https://www.esteri.it/mae/resource/doc/2020/06/ebook_export_una_guida_per_partire.pdf
Soon the contents of the e-book will also be available through a specially developed APP.
2) Creation of a single public portal for access to export services, national and regional, which will allow the company to orient itself with a few clicks towards the services and tools provided by MAECI, ICE, SACE SIMEST, Regions and easily identify those closest to their needs.
September 2020: launch of the first release of the portal
December 2020: refinement of the portal functions with the introduction of new content and the creation of a digital support desk; thanks to the use of artificial intelligence solutions, the portal's response capacity will also be strengthened in terms of business matching.