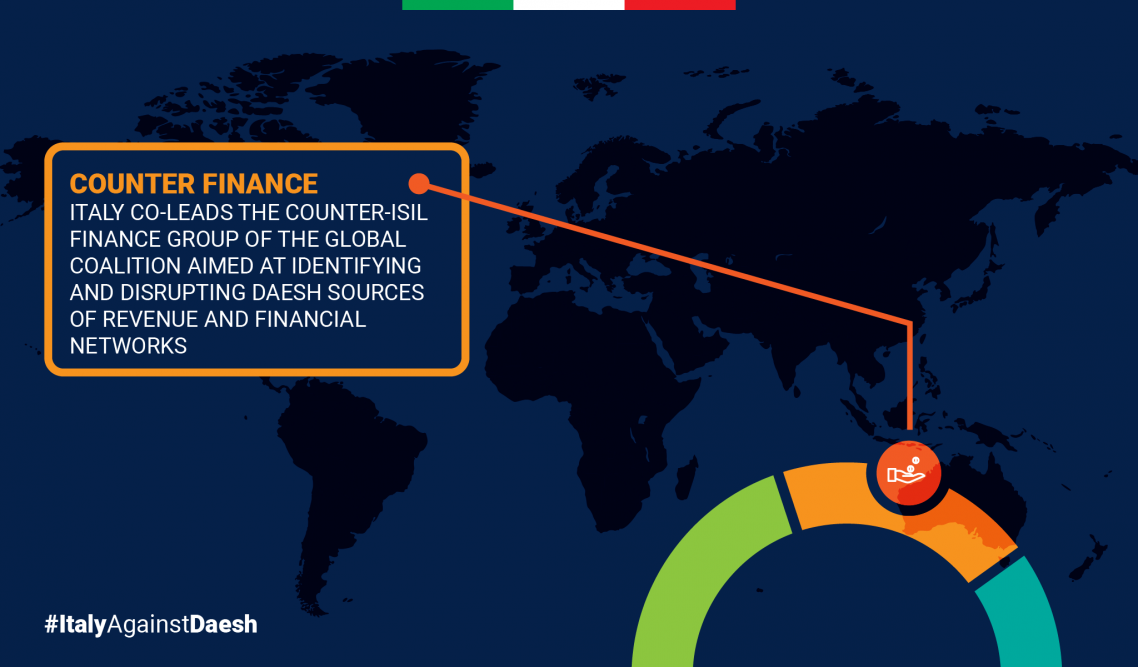 Italy - together with the United States and Saudi Arabia co-leads the counter- ISIS Finance Group (CIFG) aimed at identifying and disrupting Daesh sources of revenue and financial networks.
Building upon the strategy to counter Daesh's financing enshrined in the CIFG's Rome Plan, approved in March 2015, Italy has been working with the Global Coalition partners to: identify and disrupt Daesh's access to regional and international financial systems, limit Daesh's global financial networks and its geographical affiliate, strengthen international anti-money laundering and counter-terrorist financing measures. In this regard, stepping up financial intelligence sharing within the Coalition is critical to increasing coordination with our partners on technical assistance offered to the Countries most exposed to Daesh's threat.
At the national level, in the last few years, tougher legislation on countering terrorist financing has been approved, providing judicial authorities with stronger, more effective tools. In addition to introducing new criminal legislation to crack down on individuals financing - or providing other kinds of support- to terrorist groups, Italy has implemented restrictive measures targeting self-trained jihadists and foreign terrorist fighters. A dedicated interagency body, the Financial Security Committee, is entrusted with the power to supervise this comprehensive process, ensuring an in-depth, consistent application of relevant legislation and increased information sharing.