The second phase of the "In Gara con Noi – Tender Lab" programme has just kicked off. The Programme is addressed to companies that intend to improve their capacity to compete in the world of international tenders.
Following a training cycle in class, which was attended by more than 250 Italian companies, a new cycle kicked off with thematic workshops focused on the tendering opportunities offered by big international events – such as Expo Dubai and the World Cup Qatar – and by the Procurement processes of major International Institutions (World Bank, UNO, EU).
The first of the five Workshops scheduled was dedicated to Qatar, a Country that in the next few years will be launching a broad infrastructure construction programme within the framework of the "Qatar National Vision 2030" development strategy.
Many are the opportunities connected to the World Cup to be held in Qatar in 2022, in the perspective of which the Country will make public investments worth 278 billion dollars.
The large infrastructure contracts that will be awarded in the upcoming months will offer significant business opportunities for Italian companies in the field of design and construction, logistics, ports, airports, roads and railways, interior design, security systems, telecommunications, sports facilities, trimmings, plants, and the creation and organization of events.
At the two Workshops – held respectively in Bari and Bologna on 9 and 10 April – the Director of Procurement Department of the Ministry of Finance of Qatar illustrated the main innovations in the procurement process, the set of measures to facilitate SMEs, the main sectors of intervention and the procedures to access the platform containing the public tenders.
The next initiatives on the agenda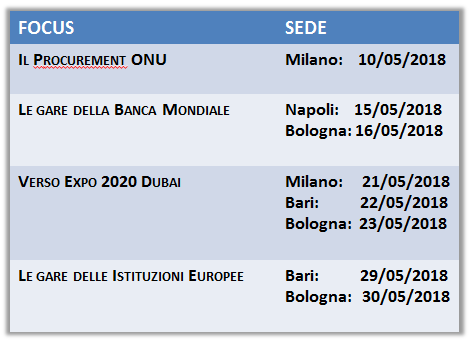 The 'In Gara con Noi – Tender Lab' programme is a project promoted by the Directorate General for Cultural and Economic Promotion and Innovation of the Foreign Ministry, patented and implemented by ICE Agency which, through an integrated guidance process, offers Italian businesses the tools with which to improve their competitive edge in international tenders (works, goods and services).
To register to attend the next Workshops: bit.ly/ingaraconnoi