Reloaded 2020 è un videoprogetto dell'Istituto Italiano di Cultura di Amburgo sviluppato nell'ambito dell'Europa Week of Regions and Cities e nasce da una riflessione sul ruolo che i luoghi di cultura rivestono nel difficile momento che l'Europa sta vivendo a causa della pandemia da COVID-19.
Attraverso questo video-progetto, l'Istituto Italiano di Cultura di Amburgo ha invitato amici ed ospiti vicini e lontani a realizzare un videosaluto personale e creativo, ispirato da queste riflessioni.
Il risultato è un coro di voci che riflette sul presente e immagina il futuro
Guarda la playlist dei videomessaggi
Consulta la mappa dei partecipanti: artisti, architetti, danzatori, giornalisti, attori, registi, musicisti, scrittori, scienziati e creativi che hanno partecipato all'iniziativa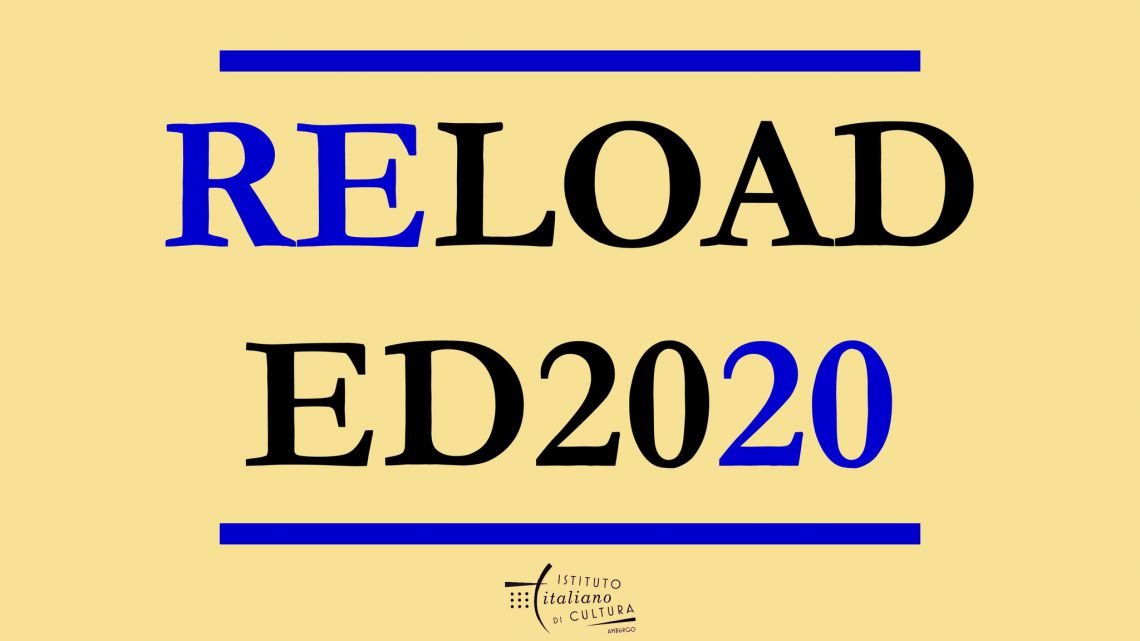 Con la partecipazione di: Franco Panzini, architetto; Paola Ascione, architetto; Claudio Gulli, storico dell'arte; Alessandra Ferrighi, storica dell'architettura; Vincenzo Ciccarello, fotografo; Francesco Mazzonetto, pianista; Vince Abbracciante, fisarmonicista; Mauro Sigura, oudista; Simone Vallerotonda, liutista; Paolo Di Paolo, scrittore; Simone Foresta, archeologo; Eva Degl'Innocenti, archeologa; Nadia Terranova, scrittrice; Anna Giurickovic Dato, scrittrice; Alessandra Crocco e Alessandro Miele, attori; Beniamino de' Liguori Carino, Segretario Generale Fondazione Adriano Olivetti; Annamaria Ajmone, danzatrice e coreografa; Alessandra Ballesi-Hansen, editrice; Jorma Ferino, sviluppatore esperto in multimedia; Antonio Talia, giornalista e scrittore; Alessandro Melazzini, produttore e documentarista; Petra Reski, giornalista e scrittrice; Annette Kopetzki, traduttrice letteraria; Francesca Olivieri, regista e sceneggiatrice; Elia Cecino, pianista; Gabriella Angheleddu, fondatrice della Galerie der abseitigen Künste; Fabien Vitali, docente di letteratura italiana e francese (CAU); Marcella Marconi, astrofisica; Micaela Deiana, consulente Fondazione Sardegna Film Commission; Progetto RiMATERIA, architette e designer.