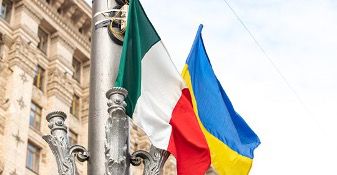 Also from Kyiv comes a testimony of solidarity with Italy for the fight against Coronavirus. On the occasion of the anniversary of the unification of Italy on 17 March, 100 flags of Italy and Ukraine were placed in the centre of the Ukrainian capital, along Khreshchatik street.
"By combining our efforts, knowledge, experience and the best experts, together we can stop this disease! I invite you once again to strictly observe the rules of hygiene, avoid crowded places and, where possible, stay at home until the epidemic situation improves. This is the best way to stop the spread of the infection," said Vice Chief of the Municipality Mykola Povoroznyk.
"The emergency has taken on a particularly serious level in Italy, but the response of the institutions, the national health system and the Italians have been extraordinary for courage, commitment and professionalism. Our country is showing to be a pioneer in crisis management. The crisis can be transformed into an opportunity for the improvement of our society," added the Italian Ambassador to Ukraine, Davide La Cecilia.