Thanks to state-of-the art technology, the Scrovegni Chapel, one of the world's most renowned masterpieces, is travelling to Zagreb. The Archaeological Museum in Zagreb is hosting an immersive exhibition entitled "Magister Giotto, the Scrovegni Chapel", which is produced by Cose Belle d'Italia Media Entertainment and organised with the Italian Cultural Institute in the Croatian capital. It will enable visitors to fully understand the meaning and enjoy the beauty of Giotto's frescoes down to their most minute details. The exhibition, which runs until 15 January, offers a unique and unconventional image of Italy, and pushes further the frontiers of artistic shows.
Zagreb is showing one of the seven sections of the exhibition "Magister Giotto", that opened last year in Venice at the "Scuola Grande della Misericordia" at the celebrations for the 750th anniversary of the birth of the artist.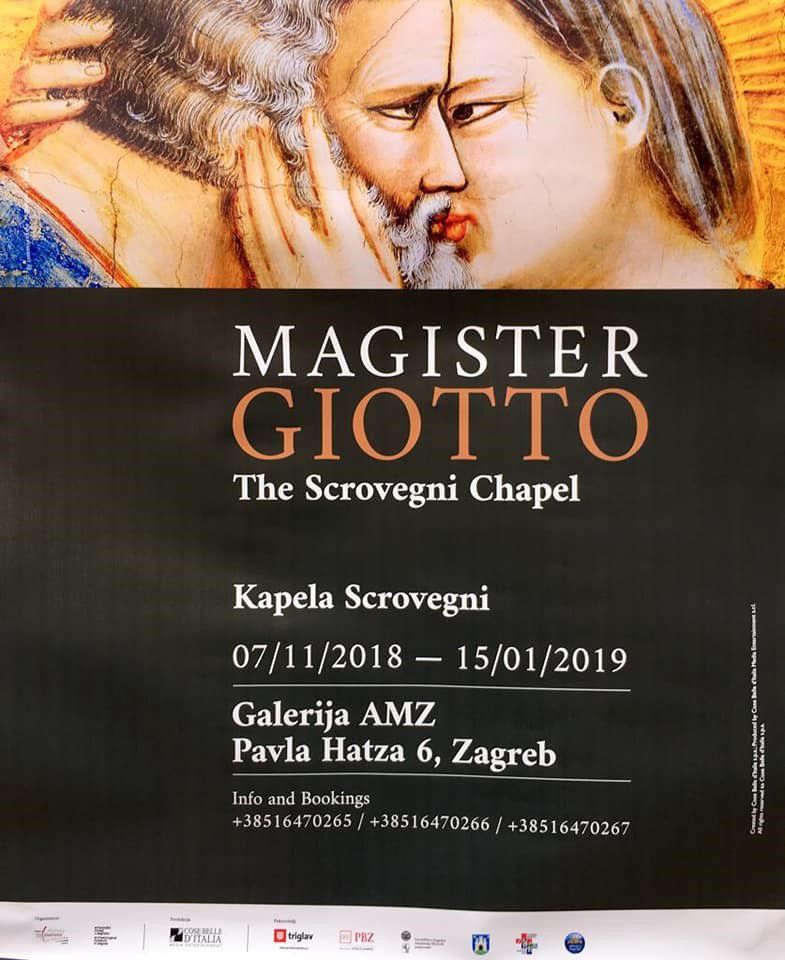 Italian Ambassador, Adriano Chiodi Cianfarani, gave the opening address which was followed by comments from Stefania del Bravo, Director of the Italian Cultural Institute, Luca Mazzieri, Artistic Director of Cose Belle d'Italia Media Entertainment, Giuliano Pisani, the exhibition's curator, and Sanijin Mihelic, Director of the Archaeological Museum.
Visitors are immersed in an evocative installation which offers a unique emotional and critical journey through the works and life of Giotto, which in this section is focused on the Scrovegni Chapel. The high-definition virtual images are projected on three walls. They are accompanied by a dramatic and critical narration, curated by Giuliano Pisani with Luca Zingaretti providing the Italian voice (English and Croatian versions are also available). The original music by jazz artist Paolo Fresu runs through the story.
The images exalt the innovation of Giotto's art which opens a new dimension that is closer to man and his earthly life and removed from the solemn fixity of medieval art.
The faces of the characters Giotto painted in the Scrovegni Chapel - which is a masterpiece from this point of view - express strong feelings and emotions, which visitors can immediately understand. For the first time they live in a space with perspective: Giotto laid the foundations for the fundamental parameters of Western art and thought, which would be later developed by the Italian Renaissance. It was the time of memory and perfect geometries of perspective, the tool through which human rationality dominates and establishes an order in earthly space.