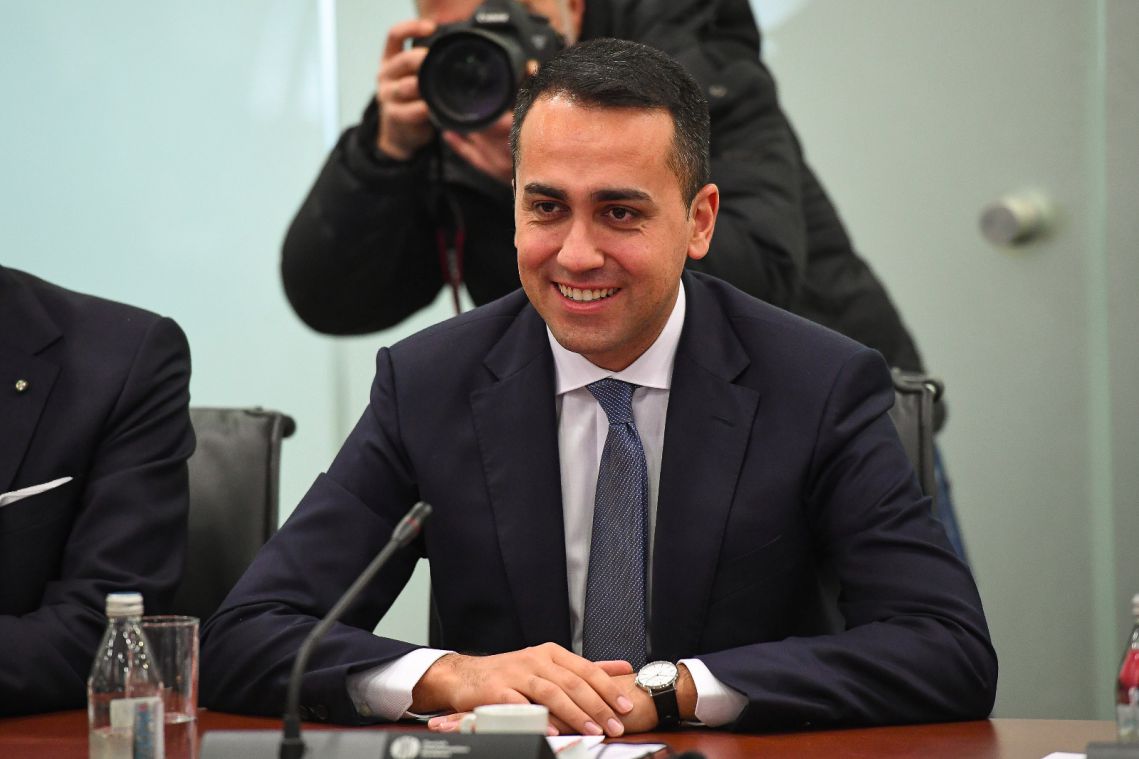 «Our exports of goods and services are a strategic foreign policy priority for our Government, since they represent the most dynamic sector for producing wealth and account for 32% of the GDP. Clearly, Italian businesses are faced with great difficulties and need to overcome significant challenges in complex scenarios, also in the light of the coronavirus emergency». The Foreign Minister, Luigi Di Maio, explains the measures by the Italian Government in these terms. «Which is why - says the Foreign Minister – we have decided to allocate about 300 million euros, over 2020, to help the Ice Agency finance and support Italian exports». Between a Government summit on the coronavirus and the mission to Belgrade to re-launch the EU enlargement process, Mr. Di Maio is also keen to send a clear message to Italian businesses, which are faced with challenging export problems at this serious juncture. Regarding the ban on flights to China, which has strongly irritated Beijing, the Minister denies that there are two positions within Government and confirms his solidarity «to the Chinese Government and people». «The Health Minister - he says - has acted not on considerations of a political nature, but on purely technical and scientific assessments». The ban will be lifted - he adds - as soon as the number of infections starts dropping. All he has to say about the Egyptian student arrested in Cairo, for his commitment concerning the Regeni case, is: «I'm following the matter very carefully through our Embassy in Cairo».
Minister Di Maio, the coronavirus and the negative effects it's having on the Chinese economy could further slow down the Italian economy as well, especially exports and international tourism, which are two significant mainstays. Is there any way we can avoid another year of stagnation?
The coronavirus in particular, and the general slowdown in the economy in China, can negatively affect the global economy, not just Italy. But we also have an opportunity, through a well thought out diversification of foreign export markets, to mitigate this downturn. In fact, we need to think forward and intensify our commitment towards the principal EU markets (Germany, France, the UK and Spain), the United States, which is a strategic export market, in terms of both trade and foreign investments, India, Mexico and Japan (where the free trade agreement is ensuring an incredible success for our exports), as well as the Gulf Countries, in particular the United Arab Emirates, which are hosting the forthcoming Expo. Given the situation of global uncertainty we need to focus on the more mature markets.
How many Italian businesses operate in China? Are you considering support measures for those remaining in the country? And who are we exporting to in China?
We have over one thousand businesses with an Italian controlling or minority stake, employing more than 130 thousand people and producing a turnover in excess of 16 billion. They are primarily medium-sized manufacturing enterprises, specialising in a range of sectors, mechanical and electro-mechanical, metalworking, textiles, healthcare, construction materials, furniture, HVAC systems. There are also many service companies, in particular commercial distribution and technical and professional consulting. One of the characteristics of Italian businesses in China is their capacity to react in a flexible way to changing external conditions. In any case, they can rely on an effective support network set up by the institutions that promote Italian business activities abroad, our diplomatic and consular network, first and foremost, and the Ice offices. Ice has put into place a promotional programme for 2020 targeting businesses exporting to China and featuring promotional investments totalling about 20 million euros. This will not change.
Can you please elaborate on this?
It's a far-reaching plan, offering support to projection strategies, for a broad spectrum of sectors with a high potential for expansion. Especially in the field of consumer goods and the agri-food sector, we are going forward with the collaboration projects with the major e-commerce players, like Alibaba, Suning, JD and Tencent, therefore offering internationalisation opportunities to small enterprises which, otherwise, would have no prospect of ever entering the market. Moreover, e-commerce is a sector that, due to the current health scare in the country, is recording a spike in domestic demand. Last but not least, another fundamental issue is our promotional support to the Italian instrumental mechanics and hi-tech industries, such as robotics and mechatronics. As soon as the coronavirus problem starts fading, we will act strongly to support a new and intense growth by Italian businesses on that market, with the contribution, I'm sure, of the Chinese Government itself, which will want to support any possible measure capable of accelerating recovery and growth.
There has been talk of a 20 billion Chinese investment in Italy for the Belt road. Is any progress being made here?
Following up on the bilateral agreements signed and the ongoing interest expressed by several important Chinese players, who see Italy as a strategic terminal for the maritime Silk Road, in consideration of our privileged access to the key trade hubs of continental Europe, we are making massive investments in our ports and the associated Special Economic Areas (SEA). However, these are complex and painstaking processes, which envisage a medium-term horizon at least. My wish is that, irrespective of the forecasted figures, this process will enable many small and medium Italian businesses to enterprises to partake of this amazing opportunity, as either suppliers or sub-suppliers.
On a more general note, foreign investments in Italy are rather fragile at present, a fact confirmed by the multinationals about to leave the Country.
On the contrary. In recent years the process for attracting direct foreign investments has intensified, according to AT Kearney's competitive benchmarking, for example, which ranks us eighth in 2019, among the most attractive countries, or the report by Ernest&Young on the number of greenfield projects launched in 2018, in which we emerge as the fastest-growing European country.
Another mainstay of our economy in recent years, which is now at risk because of the coronavirus, is international tourism, especially this year in which tourism from China was expected to peak. The outlook is very bleak indeed. What can be done?
It is obviously a very serious moment, but not catastrophic. We have renegotiated the airline agreement and, as soon as the situation goes back to normal we will be able to even increase tourism from China to Italy.
Which are the estimated effects of US trade tariffs on Italian products? Trump is stronger than ever in the US and there is a continuous threat of hiking up tariffs on products from Europe.
The recently imposed tariffs have hit certain agri-food sectors and the steel and aluminium industry. Considering the size of Italian agri-food exports to the US (5.39 billion dollars in 2019) and the strategic importance of Italian products on the US market, the measures are undoubtedly creating concern. The hardest hit agri-food products are, of course, the most popular ones.
Can something be done to mitigate the impact on Italian products?
The first form of response must be negotiation, to mitigate the adopted tariff measures and prevent their extension to other Italian products. However, our Government has not abandoned our businesses. On the one hand, through intense diplomatic activity, we have been able to strongly reduce the possible damage resulting from the introduction of even higher tariffs; on the other hand, through the Ice Agency, we have implemented a plan for supporting Italian businesses that operate on the US market and promoting their expansion on alternative markets. In the US, there has been a strong promotional response, thanks to a partnership between Italian and US companies, with the special support of events like the Winter Fancy Food in San Francisco, consisting of information, communication and training projects for experts and businesses. For the purpose of enhancing the penetration of Italian products among new consumer groups, we have allocated special promotional funds, totalling 12 million euros, for consumer communication and entrepreneur training campaigns in areas featuring strong economic indicators, over recent years, favourable to Italian products. The promotional platform will focus on the strategic metropolitan areas of Dallas, Houston, Phoenix, Denver, Seattle, Minneapolis, Philadelphia, Washington D.C. Furthermore, over 400 Italian businesses will be attending the next edition of the Summer Fancy Food, which is the best market response to valorise products that express the Italian lifestyle, to effectively raise awareness among both elderly consumer groups and so-called millennials.
You have significantly overhauled the foreign trade arm of the Ministry, but have stopped short of choosing between Undersecretary Scalfarotto and the Deputy Minister De Stefano for the top post. How is this going to end?
I'm in charge for the time being and this will speed up the implementation process, also thanks to my past experience at the Ministry for Economic Development. In fact, for 2020, we have already planned a number of missions for promoting Italian business abroad, business forums and other activities to support the internationalisation of our enterprises. The Foreign Ministry is united and I and the Undersecretaries are working together towards a common goal, the Country's growth. In fact, I will shortly be holding a special meeting at the Ministry with all the Government members involved in the effort to improve our exports and foreign trade.
Will the Government be adopting the usual annual measure to foster growth? If so, will you be considering any measures to improve foreign trade and foreign investments in Italy?
That is the ultimate goal. To do our best, working within our competence and capabilities, striving to boost growth, offer new opportunities to businesses and create jobs.
Regarding the Ceta, you have always been opposed to its ratification in its present form, calling for profound changes, which, however, will hardly happen. Now that you are responsible for that Treaty, as Minister, and have probably had a first-hand chance to hear the opinions of the business world, have you changed your mind?
Listening to the business world is fundamental, in any case we will ponder every step we take for the good of the Country.
5G has shaken some very solid relations, such as those between the US and the UK, while Europe issues guidelines but struggles to unite behind a common position. Then there's Huawei, which laments a discriminatory attitude. Is there a strategy on such a core issue for the future of the public and businesses?
In Italy we have a balanced position that does not discriminate among operators, while seeking to protect our national security and the personal data of our citizens, also through the Cvcn. We have some of the strictest rules in Europe and even the United States have recently acknowledged this, on a number of occasions. In any case, we hope that other European Countries may follow our example.
Do you think Africa could become an opportunity for Italian businesses?
Africa is undoubtedly a market with an enormous potential for Italian businesses, which can benefit from the economic and social transformations under way. As a Government we intend to and will increase the presence of our businesses in the continent. Not only that, we must also create partnerships between Italian and North African universities to train the local entrepreneurs of the future, which, in the long term, will support and increase the presence of Italian enterprises in the region. We need a vision and we need to start building it.
China is playing a decisive role in this area too. And Europe is lagging too far behind.
In this case too, the agreements we have concluded with China, on bilateral collaboration in third countries, could become an important driver, opening up new strategic horizons on the African continent, also in partnership with large Chinese companies. Undoubtedly, in the long term, Africa is the continent with the highest growth rates. However, we must consider that there are many Africas and different entry strategies to those markets: in some sectors Italy has a considerable competitive edge, advanced technology and high-quality products and processes. Furthermore, compared to other European Countries, we are also geographically better placed. Of course, we need to increase our industrial presence, also through the Ide, and support businesses also through distribution. Several sectors in which we are acknowledged as world leaders, such as agri-food and instrumental mechanics, will be increasingly at the centre of the industrial development under way in Sub-Saharan Africa. Another asset is the appreciation for Italy's contribution to many African countries (Ethiopia, Malawi, Mozambique, Senegal, to name but a few), in respect of the struggle against poverty, institution building processes and sustainable development in most African Countries. Italy could become a privileged partner to African Countries, also because our diplomacy and international development cooperation can give substantial added value to the processes of stabilisation and sustainable development, especially in Sub-Saharan Countries.