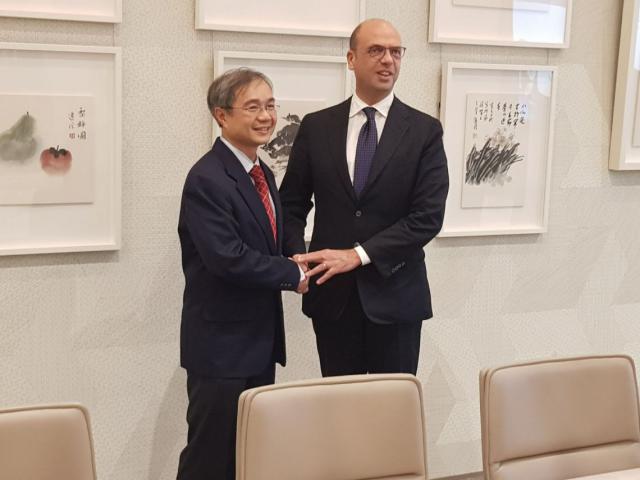 "Frequent official visits and business missions testify to the strength of our  excellent bilateral relations. We consider Singapore, one of the main economic and financial hubs in the entire Asian region, to be our strategic partner in the area. Our meeting must represent an opportunity for us to further strengthen our partnership". This is the message that the Italian Minister of Foreign Affairs and International Cooperation, Angelino Alfano, addressed to his counterpart in Singapore, Vivian Balakrishnan, in a meeting held at the beginning of his second stop during his visit to Southeast Asia.
"I congratulate Singapore on taking over the chairmanship of the ASEAN, an organization that Italy looks on with growing interest, consistently with our greater commitment in the Asian region. Indeed, ASEAN Countries make up an economic area that is becoming increasingly strategic, dynamic and interesting for the development of our markets. A stronger and more cohesive ASEAN will be able to play a crucial role in maintaining peace, security and stability in Southeast Asia and in the entire Asian region. Italy fully supports the immediate signature of the Partnership and Cooperation Agreement and the Free Trade Agreement between the EU and Singapore. This step is of utmost importance in order to reach our final goal: a comprehensive and ambitious EU-ASEAN free trade agreement" continued Minister Alfano, discussing the major regional dossiers with Minister Balakrishnan.  
The two Ministers also discussed bilateral cooperation issues. Minister Alfano welcomed "the success of the fruitful cultural cooperation between Italy and Singapore", and he underlined that Singapore "has increasingly been making its mark as a reference point for high technology, especially in innovation-intensive sectors". It is precisely on innovation that "our Countries could build new cooperation prospects, given the excellence of Italian companies in this sector".
Minister Alfano considers that "scientific cooperation represents a priority in our action to promote Italy in Singapore. We are confident that we can further strengthen our cooperation in this field, by promoting joint activities between universities and research centres and also involving the private sector".