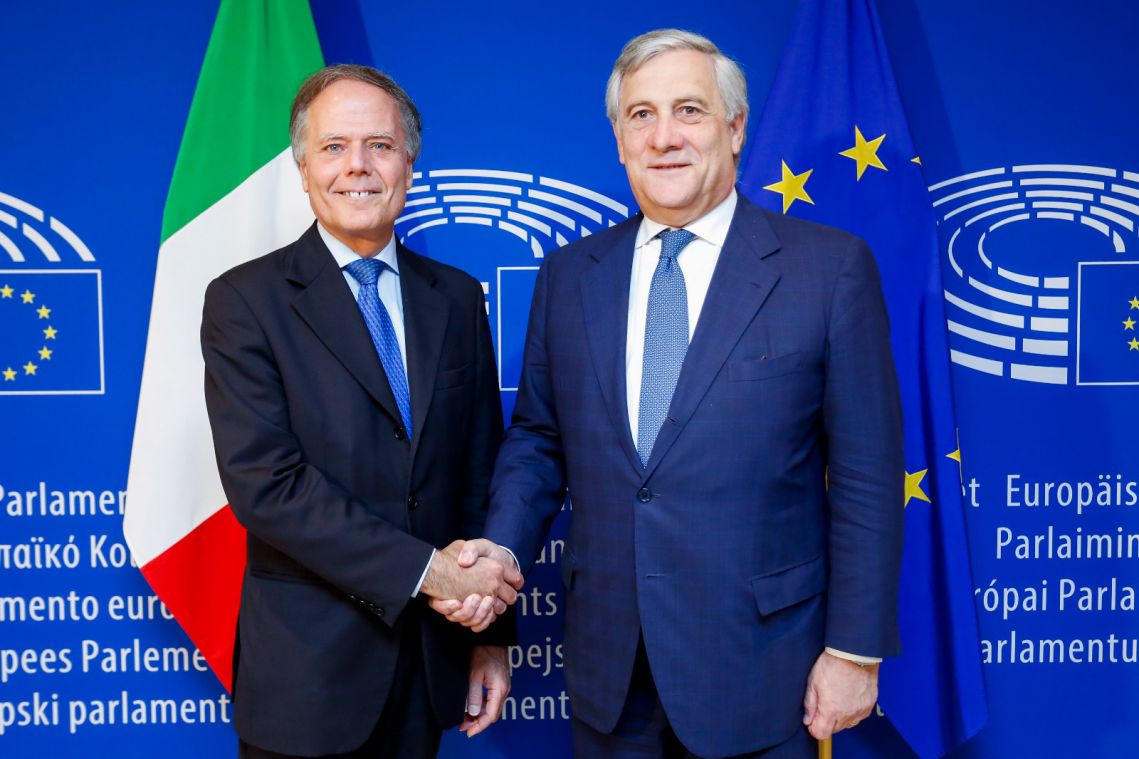 On the eve of the European Council, the Minister of Foreign Affairs and International Cooperation, Mr. Enzo Moavero Milanesi, met in Brussels today with the President of the European Parliament, Mr. Antonio Tajani. This was an opportunity for a detailed exchange of opinions on the issues dominating European current affairs, reiterating the importance of the strong and positive relationship in place between Italy and the European Parliament.
On the topic of migration, they agreed on the need and urgency to manage migration flows effectively at European level. This is in line with the conclusions of the European Council of June 2018, and also through an appropriate reform of the Dublin regulations.
Both believe that a massive investment plan is needed, funded by the EU, in the countries of origin of so-called economic migrants. This will improve their social conditions and curb their drive to leave.
The President of the EU Parliament and the Minister of Foreign Affairs also believe that the Union should act more effectively to promote peace and democratic freedoms in the geographical regions migrants are coming from.
Minister Moavero also recalled the Italian position in the negotiations on the new Multiannual Financial Framework of the EU. In particular, he pointed to Italy's request to preserve long-standing agricultural and cohesion policies, boost technological innovation and dedicate adequate resources for development cooperation in Africa. According to the Minister, "the Union must be equipped with a budget that is commensurate to the common challenges and expectations of our citizens, also through introducing new EU revenues that do not depend exclusively on the contributions paid by member States based on their gross domestic product. For instance, by issuing European securities to fund new investments or introducing EU taxes on subjects that are now able to dodge taxes by exploiting the differences between the various tax regimes in EU member States."
On the Brexit negotiations, the President of the EU Parliament and the Minister of Foreign Affairs agreed on the opportunity to keep working on an agreement for the United Kingdom's withdrawal from the Union, an agreement that is as consensual as possible. To this end, both believe that more time is needed in order to avoid the prospect of a "no-deal". The absolute relevance of an appropriate solution for the border of Northern Ireland was also emphasized. The Minister also pointed out that being reassured about the situation of Italians residing in the UK and the protection of Italian designations of origin and geographical indications are both priorities for Italy. This is an addition to protection against practices that limit trade, such as 'traffic light' food labels.