The Ambassador of Italy in Spain, Riccardo Guariglia, opened the webinar, organized by ENIT, in the context of the initiatives carried out by the Italian System in Spain to support the resumption of tourist flows to Italy. Among the European countries, Spain and Italy are the first in the West to be affected by the health crisis – explained the Ambassador – Our response, despite the difficulties and suffering faced, has been an example for Europe and the rest of the world. Italy and Spain now share a vital interest in ensuring rapid and orderly recovery of European and international tourist flows. That is why our governments have been working at the highest level with the European Commission to ensure a reopening of internal EU borders that avoids discrimination. And so, it has been". The event was attended by 12 regions (Abruzzo, Basilicata, Calabria, Campania, Emilia-Romagna, Lombardy, Piedmont, Apulia, Sicily, Tuscany, Trentino Alto Adige, and Veneto) and about one hundred tour operators, travel agencies and sector associations.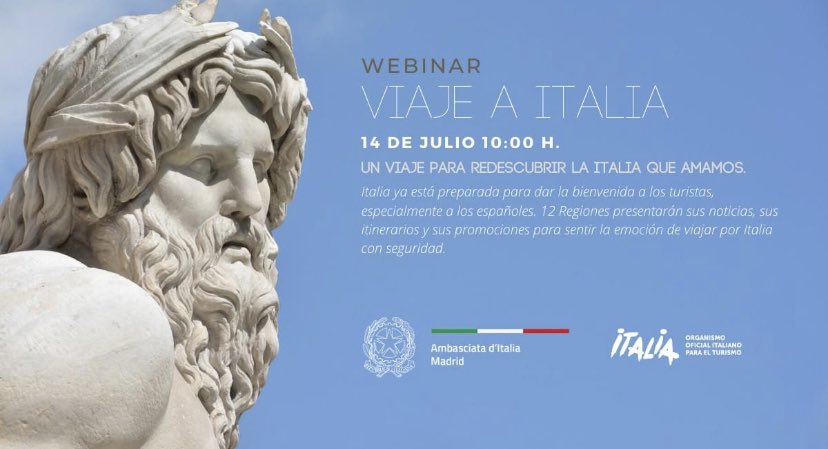 "The reopening to tourists, both local and foreign, took place in our countries thanks to our ability to produce and share objective and transparent data to show that we have contagion indexes that are now in line, if not sometimes lower, than those of many European countries – added Ambassador Guariglia -. On the Italian side, we have published the guidelines for the reopening of tourism activities, which we have disseminated to the Spanish authorities and operators to let them know that the safety standards we have adopted are the highest. We are also committed to sharing transparent and updated data on the trend of contagions throughout the Italian territory". Finally, the Ambassador recalled that a message of shared commitment in support of the tourism sector was also reiterated by the Italian Prime Minister Giuseppe Conte and the President of the Spanish Government Pedro Sánchez who, on the occasion of the visit of the Prime Minister to Madrid on 8 July, wanted to meet in one of the most typical places of tourism in Spain, the Reína Sofia Museum, in front of Picasso's famous Guernica, launching a message of encouragement to visit our countries and look with optimism at the reconstruction and recovery that follows every crisis.
To watch the video of the webinar again, click here.