"The New Trends in Italian Design" in Buenos Aires
The director of the Triennale di Milano, Silvana Annicchiarico, will give an overview of the new trends in international design presented at the Triennale di Milano 2016 while simultaneously illustrating the outline and the characteristics of the Under-35 Italian Design exhibition, specifically designed to be displayed in Buenos Aires. The event is organised by the Italian Embassy and the Italian Cultural Institute in Buenos Aires in partnership with the SCA (Sociedad Central de Arquitectos).
 "The Vespa, as Lifestyle and Art" at the Italian Cultural Institute in Bogotà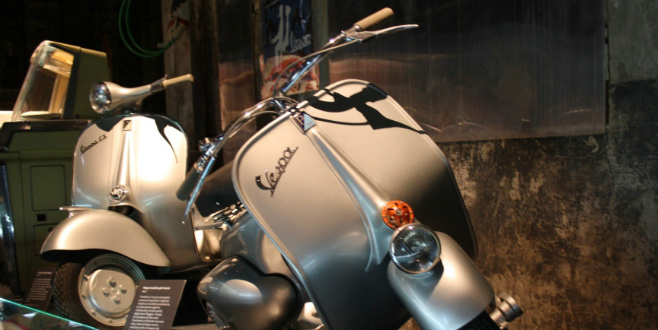 A trip on a Vespa across Italy during the last 70 years. The Vespa phenomenon is explored starting from the biography of the developer, Corradino D'Ascanio, engineer and vanguard designer, to when it became a symbol of a lifestyle and the emblem of Italy's post-war economic boom. The event also includes a dramatized reading of "La vespa nel costume e nell´arte" ("The Vespa, as Lifestyle and Art"), directed by Maestro Gianluca Barbadori, accompanied by the screening of the films in which the Vespa played a leading role, the texts, the references, interviews and exhibitions and the prototypes that made the history of Italy.  
"Massimo Vignelli, Albe and Lica Covo Steiner" at the IIC in Montréal
The focus will be on two documentaries on three geniuses of Italian design and graphic design: Massimo Vignelli, Albe and Lica Covo Steiner. The two documentaries, which will be presented by Giovanni Princigalli – who will also interview Prof. Alessandro Colizzi of the École de Design of the University of Québec in Montréal – portray the ingenious creative activities of these three unique champions of Italian design. The social value, the communication and the aesthetic vision of Italian design: an original experience in the history of contemporary visual arts and an incomparable contribution to the culture of design.
"MAXXI: from the architecture of a museum to a museum of architecture" at the Italian Cultural Institute in Lisbon
A lecture by Margherita Guccione, director of the MAXXI Architecture Museum, will be held to present Rome's MAXXI Museum in view of the "Sacro" Exhibition by Portuguese architect Álvaro Siza at the MAXXI in the month of October. The presentation falls within the framework of the cooperation between Italy and Portugal.