"Sub-Saharan Africa is a priority for Italy's foreign policy, and this is why I have decided that my first mission in 2018 should include West Africa and Sahel and to visit Niger, Senegal and Guinea. We have a broad partnership with Africa that encompasses a wide range of fields from development cooperation to security, including investments and migration management. This new approach, which was relaunched at the Italy-Africa conference in May 2016, has had concrete and visible developments in these three countries, as well," said the Minister of Foreign Affairs and International Cooperation,  Angelino Alfano, who has been visiting Africa since 3 January. In Niger, Senegal and Guinea, he held talks with the highest  institutional authorities of all three countries.
"My visit to Niamey is the culmination of an intense year of meetings at the highest levels between Italy and Niger, which have further strengthened the ties between the two countries. Niger has become a strategic ally in Italy's foreign policy in Africa. Italy has opened its embassy in Niamey, which I inaugurated personally," he said. He went on: "In 2017 Italy allocated 40% of the resources of the Fund for Africa to Niger, contributing to facing the root causes of migration. WHO data show a substantial reduction in the number of migrants who travel from Niger to Libya, and an increase in voluntary repatriations of migrants from Niger to their countries of origin."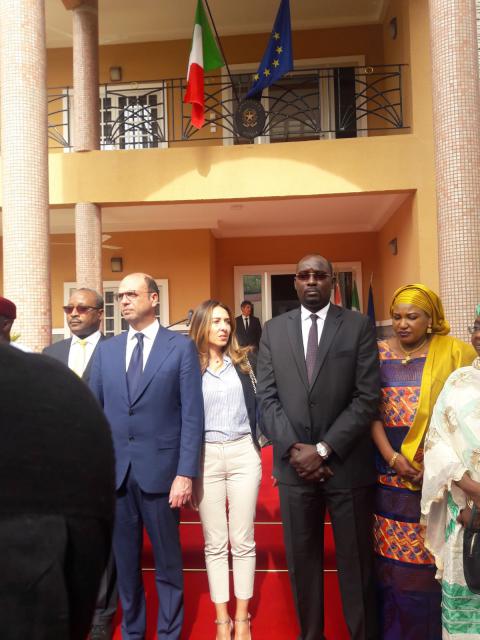 In Dakar Minister Alfano highlighted "the gradual strengthening of the bilateral relations between Senegal and Italy, which in the past year have grown even stronger because of a common commitment to face up to the socio-economic causes of migration, and thanks to the close cooperation we had within the UN Security Council." Senegal Minister of Foreign Affairs, Sidiki Kaba, and Minister Alfano signed a cooperation agreement on judicial matters with a view to strengthening cooperation. From an economic perspective, Senegal offers interesting opportunities, especially in the fields of infrastructure, sustainable urbanization and energy. "Our bilateral relations are growing constantly also in the cultural field. This is why I opened an Italian Cultural Institute in Dakar," said the minister.
The last stop is Guinea, with meetings in Conakry with the Foreign Minister Mamadi Tourè and the President of the Republic, Alpha Condè. Alfano had "a cordial and in-depth meeting" with President Condè. "Our bilateral cooperation with Guinea is growing stronger, as shown by the opening of the Italian embassy in Conakry, which will soon be inaugurated while our ambassador assumed office in November." It is a broad cooperation that encompasses security and socio-economic development, migration-related themes and cooperation on regional and global issues, which is enhanced by President Condè being appointed as president of the African Union. "The results which we both want to achieve concerning migration depend also on the economic and social growth of Guinea. Migration is a common challenge for Africa and Europe," the minister concluded.