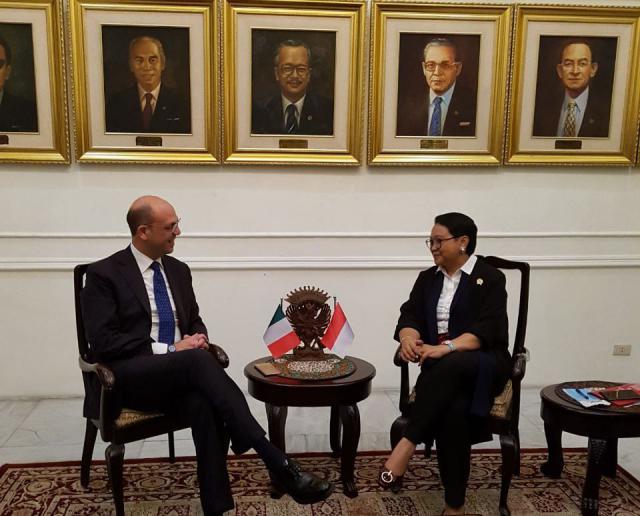 An intense three-day trip to Southeast Asia will start tomorrow for the Minister of Foreign Affairs and International Cooperation, Angelino Alfano. He will make stops in Jakarta, Singapore and Bangkok.
The diplomatic mission will begin in the Indonesian capital, where Alfano will meet his counterpart, Retno Marsudi. Their meeting will be followed by a joint press conference.
The Minister for Foreign Affairs will then go to the Association of Southeast Asian Nations (ASEAN) headquarters where he will meet its Secretary General, Lim Jock Hoi. This will be his first meeting with an EU Minister and one of his first meetings overall since he took office at the beginning of the year.
Alfano will conclude his Jakarta visit at a meeting with members of the Italian and Indonesian business communities at the residence of the Italian ambassador.
The trip will continue in Singapore on 8 February, where Alfano will meet the Foreign Minister, Vivian Balakrishnan, and hold a number of meetings related to business matters. The Minister will meet the Minister of Commerce, Lim Hng Kiang, and managers of two sovereign funds in the country: the Government of Singapore Investment Corporation (GIC) and Temasek Holding. He will also meet the President of the Economic Development Board (EDB), Beh Swan Gin.
The Singapore visit will also conclude with an embassy meeting with members of the business and Italian academic communities.
The three-day trip will end in Bangkok on Friday, 9 February. Alfano will first meet representatives of the Italian-Thai Business Forum at the ambassador's residence, and will also meet with the Presidents of the Italian-Thai Chamber of Commerce and the Dante Alighieri Society.
After meeting local representatives of the Italian press, the Foreign Minister will then go to the Bangkok Foreign Ministry where he will be welcomed by his Thai counterpart, Don Pramudwinai.
Finally, he will conclude his diplomatic mission with a meeting with Thai Prime Minister, Prayuth Chan-O-Cha.