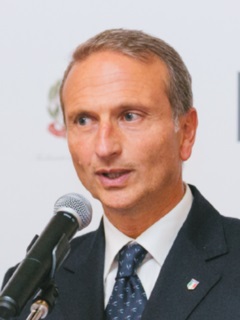 Luca Sabbatucci joined the diplomatic service in 1990, and worked in the Service for Diplomatic Protocol and the Minister's Cabinet. He held various posts at the  Embassies in Seoul, Athens and Ankara, where he also served as Deputy Head of Mission.
For a considerable part of his career, he dealt with management of the MFA human and financial resources, in the position of Deputy Director General (2011-2015) and then Director General for Resources and Innovation (2015-2018). In this role, he achieved the process of reorientation and rationalization of the Italian diplomatic and consular network launched by the Ministry of Foreign Affairs in recent years, championed reforms designed to increase the role of merit-based considerations in HR policies, and sponsored the adoption of working methods aimed at managing resources in an effective and innovative manner.
On January 8, 2019 he was appointed Director General for Global Affairs
Born in Rome in 1963, he graduated with honors in Political Science at the "La Sapienza" University of Rome and did his military service in the Carabinieri Corps.
He has been awarded the Decoration of Merit of the Republic. He is married and father of a son.