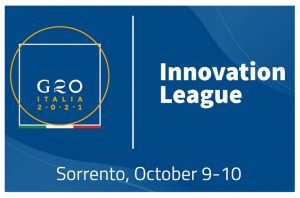 The G20 Innovation League will take place in Sorrento from 9th to 10th October 2021, before the Trade ministerial meeting. This initiative is realized by the Italian Ministry of Foreign Affairs and International Cooperation, with the Italian Trade Agency (ITA-ICE), the Italian National Innovation Fund (FNI-CDP Venture Capital) and SIMEST, in collaboration with the Italian Ministry of Economic Development and the Ministry of Innovation and Digital Transition.
Innovative startups from more than 20 Countries will gather in Sorrento for the G20 Innovation League to showcase to international investors and firms their cutting edge solutions to five of the world's most pressing challenges (opportunities of Cleantech; How to maximize the potential of AI while managing its risks; Augmenting humans through technology with IoT and wearables; Building smart cities and the future of mobility with a specific focus on green and smart mobility; Reinventing the future of Healthcare).
Within the three pillars of action of the G20Italian Presidency (People, Planet, Prosperity), G20 Innovation League aims to leverage international investment in innovation and technology and to foster cooperation between public and private players to tackle global challenges. At the end of the event, top 10 startups will be awarded and selected as examples of global innovators.