The Schengen system
The Schengen area is an area of free movement without internal border controls, established on June 14, 1985 with the agreement named after the Luxembourg town in which it was signed by Belgium, France, Germany, Luxembourg and the Netherlands. Italy signed the agreement in 1990.
The rules on the abolition of internal border controls, implying the extension of free movement for the signatory countries' nationals, were refined and further defined by the implementing Convention of June 19, 1990.
The Agreement and the Convention therefore form the Schengen acquis, which was incorporated into the Union's legal framework by the Treaty of Amsterdam in 1997 and is one of the achievements most appreciated by European citizens.
Since 1995 the number of signatory countries has gradually increased to the current 22 EU Member States and four associated countries (Iceland, Liechtenstein, Norway and Switzerland).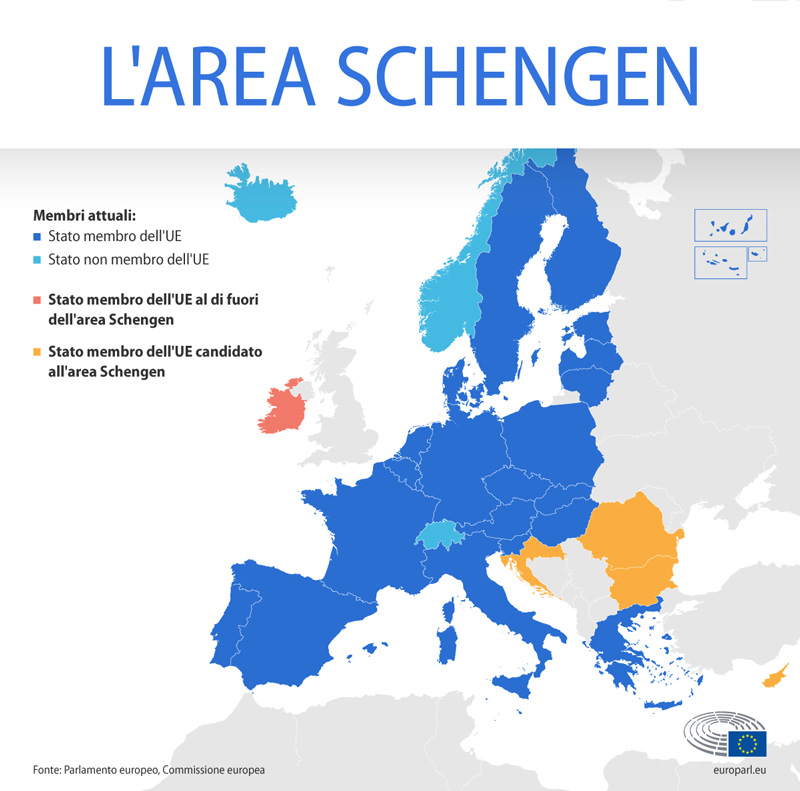 Freedom and security
The development of the Schengen area strengthens citizens' freedom and aims to protect internal security by jointly strengthening the external borders.
Every year European citizens make over 1.25 billion journeys within the Schengen area, crossing internal borders without controls. By way of exception, the mechanisms provided for in the Schengen Borders Code for reintroducing internal controls can be activated as measures of last resort and always in accordance with the principle of proportionality.
At the same time, with the implementation of the Schengen Agreement, external border controls have been strengthened and measures have been introduced to compensate for the absence of internal controls in areas such as visas, police cooperation and repatriations.
The future of the Schengen system and the Italian stance in the debate
At the European Commission's proposal, a process for revising the functioning of the Schengen system has been initiated. In this context, the reform of the Mechanism for Evaluating and Monitoring the Implementation of the Schengen Acquis has been adopted by the Council, while the proposal to amend the Schengen Borders Code, which – on the basis of the lessons learnt in recent years – aims to adopt a uniform approach to travel restrictions in the case of health risks, as well as introduce tools to combat migrants' exploitation and instrumentalisation and innovate the regime for the reintroduction of internal border controls, is still being examined.
During the reform process, Italy continues to uphold the importance of safeguarding the freedom of movement guaranteed by a Schengen Area without internal border controls, thus highlighting the need for a return to the normal functioning of the area.