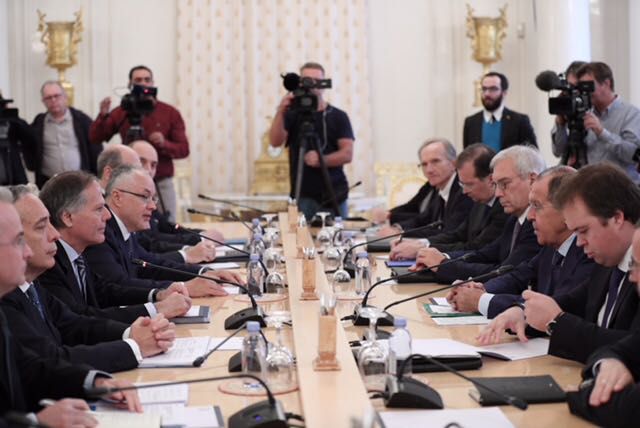 The Minister of Foreign Affairs and International Cooperation, Enzo Moavero Milanesi, will be in Moscow on Monday, 8 October next, where he will meet, in particular, the Foreign Minister of the Russian Federation, Sergey Lavrov. 
The meeting between the Ministers will give them the opportunity to review matters of interest in the bilateral relations between the two countries,which appear to be particularly dynamic both in the economic, commercial, cultural and political areas. It will also give them a chance to assess the possibility of further developments considering the mutual interest that has always characterised relations between Russia and Italy.
The topics on the Ministers' agenda will include also an in-depth analysis of the situation in Libya, with a shared vision for the promotion of safety and stabilisation. Minister Moavero will confirm the invitation Russia to participate at the highest  level in the Conference for Libya that is scheduled to take place in Palermo on 12 and 13 November. The Ministers will also discuss their respective points of view and positions with regard to the complex context of the Middle East. In his role as OSCE Chairperson-in-Office, Minister Moavero will focus on the most sensitive issues that the OSCE is to deal with, along with the upcoming "OSCE Ministerial Council" meeting to be held in Milan on 6 December. 
There will be a joint press point with the two Ministers at the end of their meeting.
Minister Moavero will also meet the Minister of Industry and Commerce of the Russian Federation, Denis Manturov, whom he already met at Cernobbio on 7 September last on the sidelines of the Forum "The European House – Ambrosetti". They will discuss the prospects for the XVI session of the Italian-Russian Council for Economic, Industrial and Financial Cooperation:The event, which will be held shortly in Italy, will be co-chaired by the two Ministers.