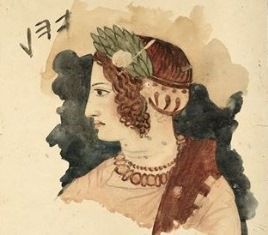 Acknowledgement must be given to Italian artist Alessandro Morani for the record that still exists of paintings that decorated Etruscan tombs between the 7th and the 13th century BC, since he copied those paintings in a series of watercolors.  The exhibition "The art of copying – watercolours of Etruscan tomb paintings from the turn of the 19th Century" is a testament to this work. It was opened by Medelhavsmuseet Stockholm on the initiative of the Italian Cultural Institute, in association with the museum and the Swedish Institute of Classical Studies.
Twenty-five of the watercolours will be exhibited until 2 June. They were painted under the supervision of Morani, one of the artists from the group that used to meet at the Caffè Greco in Rome.   The pictures are still a unique record since they are shown in their real state of conservation, without adding any missing pieces or idealising the frescoes as previous copiers had done. Many of the original paintings are now partially or fully lost, so we just have these watercolours to show how they really had been.
In some cases, the richest Etruscan tombs were decorated with paintings showing scenes of daily life or the passage to the other side. This provides a unique vision of the extraordinary culture of the Etruscans and their vision of life and death. Some of these paintings were found in tombs discovered in the 19th century, albeit incomplete. The watercolours in the exhibition were painted as preparatory material for the scaled-down copies of the paintings for the Ny Carlsberg Glyptotek Museum in Copenhagen. They form part of a more extensive collection of watercolours that came from the Swedish Institute of Classical Studies of Rome, which purchased it in 1945.