In connection with the 21st Week of the Italian Language in the World, the Italian Institute of Culture in Athens has organized a number of events with Dante as their theme. An exhibition or original works by Greek artists inspired by the "Divine Comedy" was inaugurated at the Institute on October 5th and will be open to the public until October 29th.
The exhibition, cured by Konstantino Moussas and entitled "The Imagination of the Images", gives the visitor to walk in the footsteps of Dante. It features works by 19 artists, including Dimitris Anastasiou, Antonis Giakoumakis, Irini Iliopoulou, Vassilis Kavouridis, Eleftheria Stoikou,  Enea Guzja, Elisa Bertaglia, Alessandro Casetti, Marco Goi,  Mennato Tedesco and Giorgio Tendolini.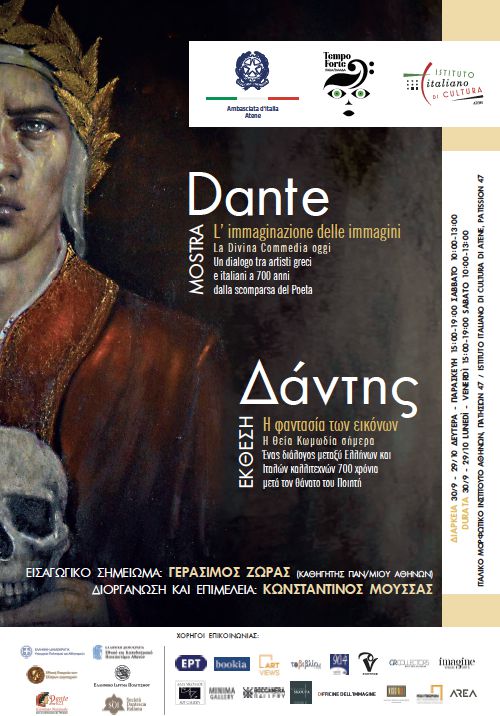 Also in celebration of Italy's Great Poet, on October 19th at the Auditorium, the Institute presented the volume "Citar Dante, espressioni dantesche per l'italiano di oggi", edited by Irene Chirico, Paolo Dainotti and Marco Galdi, with the comments and explanations of expressions, passages and verses from Dante made by scholars from all over the world.
Concluding Italian Language Week and the celebration of Dante 2021 will be the showing in December of a docufilm entitled "Dante Musicus" on the Institute's YouTube channel, as well as the video trilogy, "Dante and the Great Voyage".
"Dante Musicus" is a fascinating three-part adventure in discovery of the fertile meeting of Dante and his work with the musical art.  
"Dante and the Great Voyage" is a trilogy of videos that tell the entire story of the Divine Comedy alternating the narrative with a recital of appropriate passages, following the itinerary taken by Dante in his poem, through the stages that the poet has his spirit complete, in what for him is both a pilgrimage and a quest for knowledge.