L'Ambasciata d'Italia in Canada, il Consolato Generale d'Italia a Toronto, ICE – Agenzia per la Promozione all'Estero e l'Internazionalizzazione delle Imprese Italiane, l'Istituto Italiano di Cultura, l'Ente Nazionale Italiano per il Turismo e la Camera di Commercio Italiana dell'Ontario in Canada presentano oggi alle 12 di Ottawa (le 18 in Italia) la seconda edizione di IT@CA.
Incentrata quest'anno sul tema del Made In Italy, Back to the Future, IT@CA offre un'opportunità di approfondimento a tutte le persone interessate alle relazioni tra Italia e Canada. Quattro relatori di fama internazionale, provenienti da ambiti diversi come moda, architettura, ingegneria, editoria e medicina, si racconteranno e si confronteranno su come i diversi settori hanno affrontato la pandemia da COVID-19. La discussione, della durata di un'ora, sarà moderata da Anna Maria Tremonti, giornalista e podcaster canadese.
Partecipano a questa edizione di It@ca:
Angela Missoni – Presidente e Direttore Creativo, Missoni S.p.A.
Antonio Scurati – Scrittore, autore del libro M. L'uomo della provvidenza, Premio Strega 2019
Ilaria Capua – Direttore del centro di eccellenza One Health dell'Università della Florida
Carlo Ratti – Architetto e ingegnere, direttore del Senseable City Lab presso il Massachusetts Institute of Technology (MIT)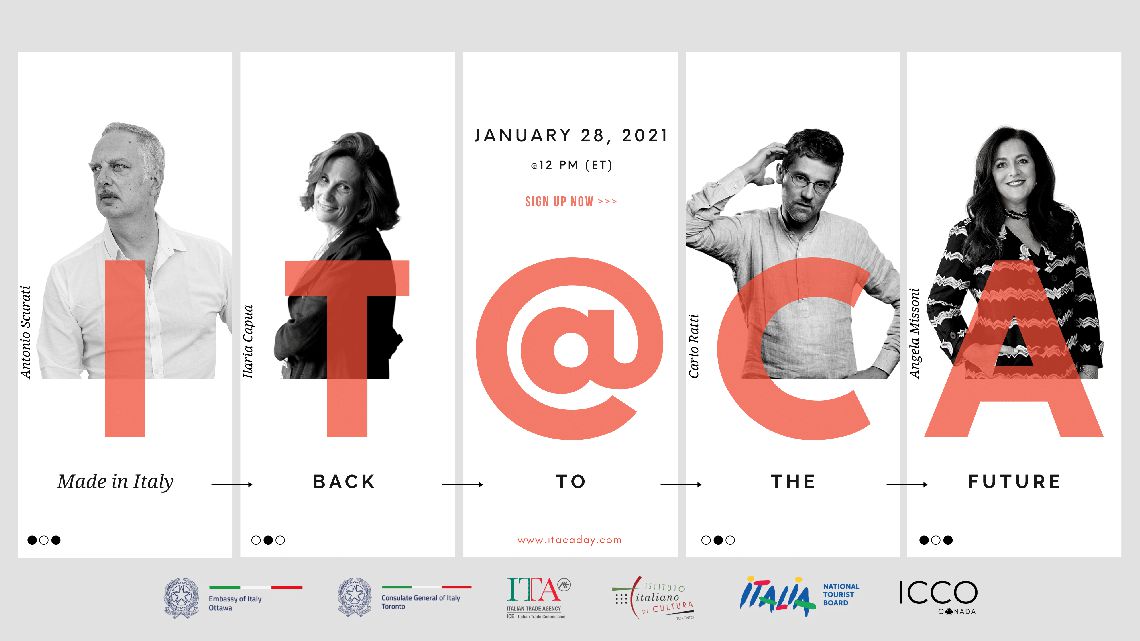 "Siamo lieti di ospitare questa prima edizione virtuale di IT@CA, con relatori rinomati che renderanno questo formato online ricco ed informativo." – ha dichiarato Claudio Taffuri, Ambasciatore d'Italia in Canada – "IT@CA offre la possibilità di conoscere l'Italia attraverso le esperienze di italiani di successo e sono convinto che sarà un'opportunità per intraprendere un breve viaggio nel nostro Paese e di apprezzarne le sue eccellenze."
IT@CA è stato progettato per creare e incoraggiare le relazioni commerciali tra partner, aziende e investitori italiani e canadesi. Tutte le principali istituzioni e organizzazioni che contribuiscono alla realizzazione dell'evento promuovono la crescita e lo sviluppo economico tra i due paesi. 
Uno dei tanti progetti ideati e messi in opera dal Sistema Italia in Canada, IT@CA vuole mettere in evidenza tutto ciò che rende questo paese unico, ricco di storia, arte, creatività ed innovazione. L'obiettivo è di sottolineare l'importanza di queste qualità che servono ad arricchire ulteriormente i rapporti di amicizia che legano Italia e Canada da molti decenni.
L'evento, presentato in italiano e inglese, utilizzerà la piattaforma Zoom. La partecipazione è gratuita previa registrazione.
Per maggiori informazioni: www.itacaday.com.