L'incredibile storia del Museo di Arte Contemporanea di Teheran (TMoCA) è stata raccontata nel nuovo episodio della serie "Domus Eyes on Iran", dal titolo "The Tehran's Contemporary Art Museum. The Anti-Monument". La serie è prodotta dall'Ambasciata d'Italia a Teheran in collaborazione con la prestigiosa rivista di architettura e design, Domus.
Disegnato all'epoca dello Shah Pahlavi negli anni '70 dal cugino della regina Farah Diba, l'architetto Kamran Diba, il TMoCA nasce con l'obiettivo di raccogliere e valorizzare l'arte di giovani artisti iraniani. Il museo ha poi raccolto, specie nella fase successiva allo shock petrolifero del 1973, una formidabile collezione di arte contemporanea tanto da essere considerato al primo posto tra i Musei extra-europei e nordamericani per valore della collezione di arte moderna e contemporanea occidentale che ospita al suo interno.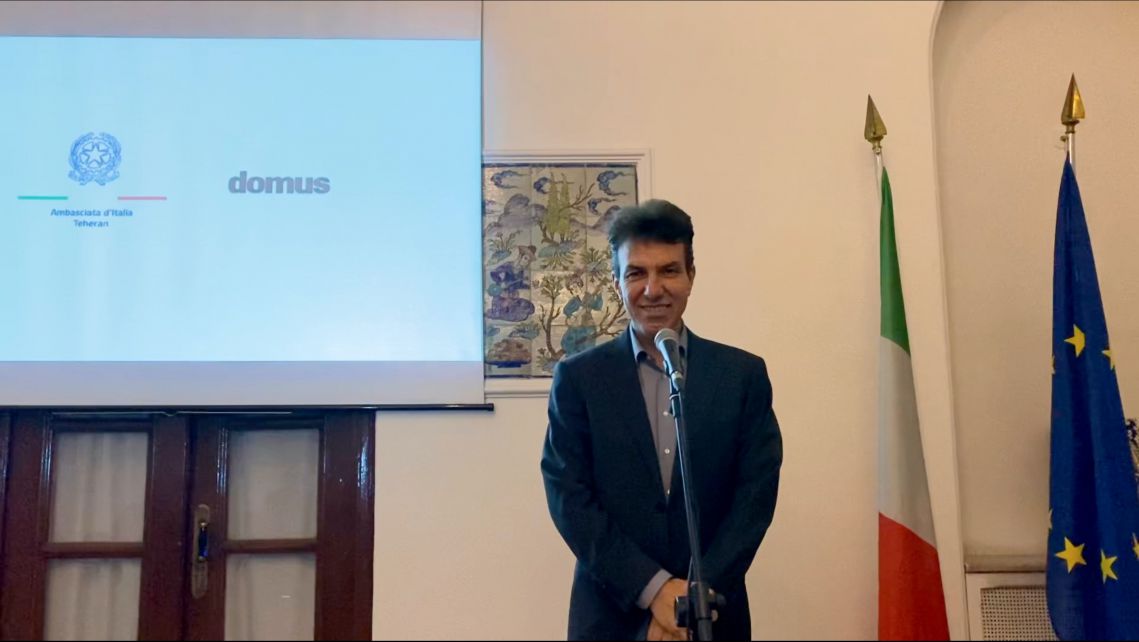 Nel corso dell'episodio è possibile ascoltare direttamente dalle parole di Kamran Diba, che nel 1977 ne è divenuto anche il primo Direttore, l'affascinante genesi del museo, collocato in una posizione strategica della capitale iraniana, nell'area ovest di quello che oggi è conosciuto come il Parco Laleh.
L'episodio, presentato in una serata ospitata dall'Ambasciatore d'Italia a Teheran Giuseppe Perrone, presenta altresì i gioielli di arte italiana nella capitale iraniana, a partire da quelli nella collezione del museo di arte contemporanea, tra cui la strepitosa"Tenda Verde" di Michelangelo Pistoletto, uno dei pezzi più pregiati della serie "Cavallo e Cavaliere" di Marino Marini, fino alle iconiche sculture di bronzo di Boccioni (dalla serie "Forme uniche della continuità nello spazio") e Pomodoro (dalla serie "La Sfera").
La serie "Domus Eyes on Iran", giunta al sesto episodio, riprende articoli pubblicati dalla rivista Domus a partire dagli anni '40 del secolo scorso fino ai giorni nostri, scandagliando i dettagli delle opere che ne sono state oggetto, raccontandone la successiva evoluzione, aggiungendo altri pezzi del racconto, che aiutano a ricostruire una storia di collaborazione e scambio tra Italia e Iran che non si è mai interrotta.
Il documentario "The Tehran's Contemporary Museum. The Anti-Monument" e i precedenti episodi della serie ("Qajar Tehran. The Glass & Ceramics Museum and the Italian Residence", "Orsi Khaneh. A Window on Iran's Unique Blend of History & Modernity", "Architecture Meets Nature by Sara Kalantary & Reza Sayadian", "Gaetano Pesce and the Tehran National Library", "Villa for an Older Brother") sono visibili sulle piattaforme social dell'Ambasciata d'Italia a Teheran (YouTube, Instagram, Twitter).