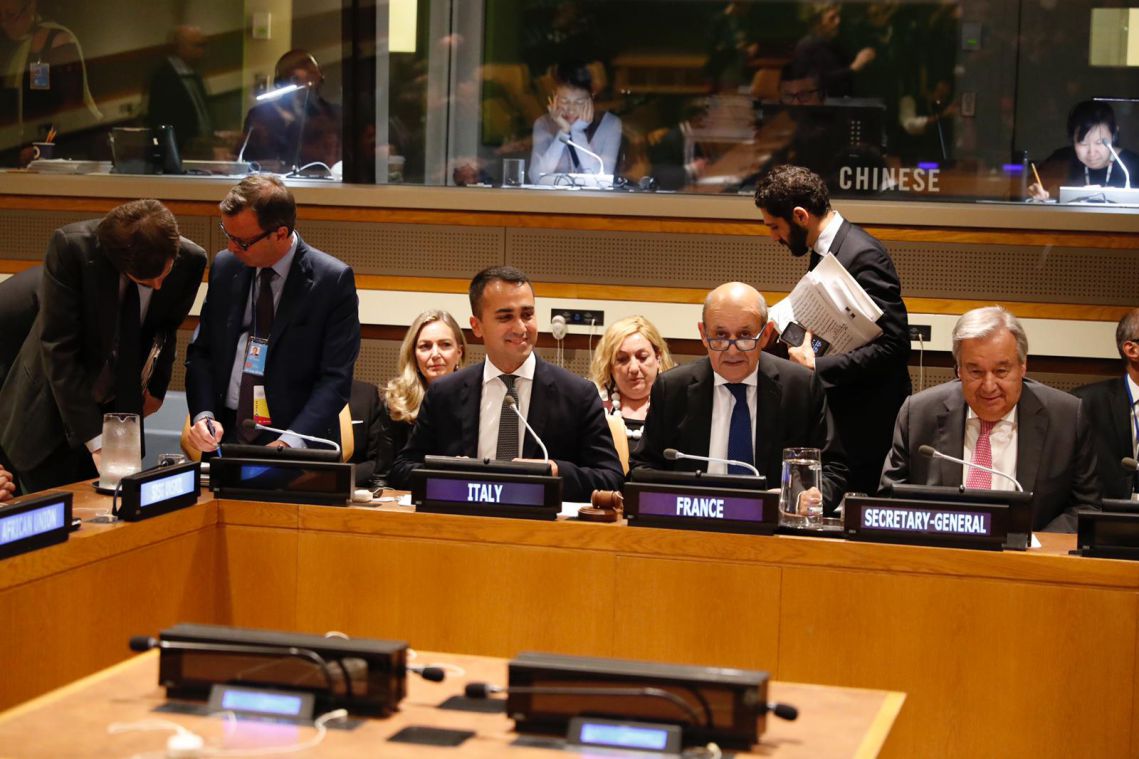 The Minister of Foreign Affairs and International Cooperation, Luigi Di Maio, in winding up his mission to New York, co-chaired the Ministerial Meeting on Libya with his French counterpart Jean-Yves Le Drian, on the fringes of the United Nations General Assembly. The meeting was held at the attendance of the United Nations Secretary-General Antonio Guterres, and of his Special Representative in Libya, Ghassan Salamé, with the participation of some of the Country's most engaged on the Libya dossier at international level, in addition to representatives of the European Union, the Arab League and the African Union.
During his address, Minister Di Maio stressed the centrality of the Libyan dossier for the security and stability of the Mediterranean region and the commitment of Italy and of the whole International Community in the pursuit of a peaceful and shared solution to the long Libyan crisis. "The meeting aims to contribute ideas, considerations and proposals and promote a strong cohesiveness of the International Community ahead of the Conference on Libya that Germany intends to organise in the autumn," said Minister Di Maio.
The Minister also expressed great concern over the deterioration in the security and humanitarian situation throughout the Country, reaffirming that instability in Libya cannot be solved through a military intervention which, to date, has only caused the death of numerous civilians, a difficult to estimate number of victims among combatants and at least 120,000 displaced persons, and has stoked up the threat of terrorism and further worsened the Country's instability. "It is ever-more urgent to go back to dialoguing and promoting political initiatives," said the Minister, recalling the need to pursue an inclusive dialogue and assure the fair use and distribution of the Country's resources to the benefit of the whole of the Libyan people.  
Lastly, Di Maio reaffirmed Italy's staunch support for the efforts of the United Nations and of the UN Secretary-General's Special Representative in Libya, Ghassan Salamé, in the UN-led process in favour of peace and security in Libya.