The Consulate General of Italy in Shanghai is tinged with green: today Consul General Michele Cecchi unveiled the "xiao bangongshucai" (small office garden) with which one of the founding principles of sustainability is also adopted in the Consulate, so everyone must do their part.
COVID-19 pandemic has shown how much our individual behaviour, our daily rhythms can change, how flexible and adaptable we must be to new situations. The largest online education programme in history has begun. We have all massively experienced webinars instead of travel and face-to-face meetings, adapting to restrictive measures and reducing mobility. Worldwide, widespread home delivery services have exploded, replacing direct shopping. The pandemic shows how important it is to promote sustainable patterns of growth to improve the quality of life in our cities.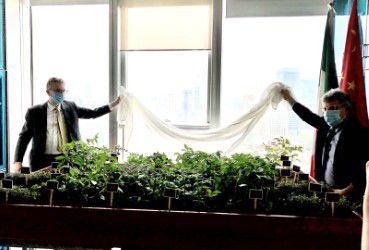 Shanghai's development plan to 2035 expresses clear guidelines in the direction of environmental sustainability: urban parks within a maximum of ten minutes walking distance, improved water and air quality in the city, a new waste policy with recycling of materials, increasingly public mobility, digital innovation, use of renewable energy are among the new measures, which are also common to many cities around the world.
These plans also include urban agriculture, food products originating from "vertical farms", buildings in the vertical city where vegetables and fruit grow.
The priorities of the Italian Presidency at the G20 will be Public Health, People, Planet, Prosperity, of which sustainability, safety and food quality is a fundamental element.
Italy's contribution to this end rests on a solid basis: for the value of its food raw materials, those that characterise our Mediterranean diet, for the richness of the territories and the vastness of species for each type of product on earth.
Within this broad framework, the Italian Consulate General in Shanghai has created its own "office garden" "bangongshucai", a way to "cultivate" food sustainability, reinventing and making the best use of space in the daily practice of a Consular office.
In doing so, we wanted to keep an attentive eye on younger generations, who are the future of our planet, establishing a collaboration on sustainability education initiatives, with the prestigious Caoyang High School in Shanghai where the Italian language is taught and with which the Consulate maintains consolidated and fruitful relationships.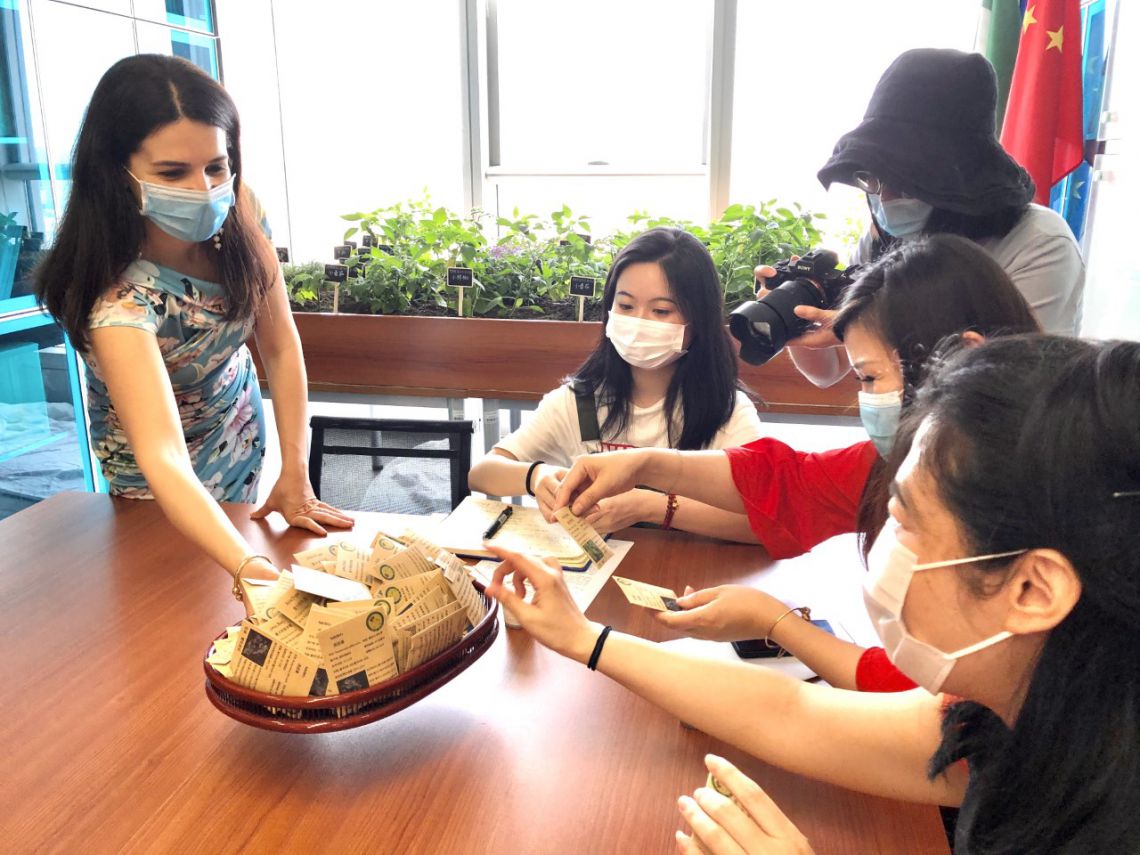 In 4 square meters of the meeting room will be grown tomatoes, basil, chili pepper, salads, mint and other vegetables. The care is entrusted to the Consulate's staff: a small tray of vegetable garden for each one. Self-sufficiency in cultivation, care, harvesting, consumption of garden produce.
Today's first initiative is part of the strong collaboration between Italy and Shanghai on environmental issues: for example, the visit of Minister Costa in June 2019 and the creation of a Sino-Italian Center for Environmental Sustainability at Tongji University in Shanghai.
The opening ceremony was attended by all the major newspapers in Shanghai (including the Xinhua State Agency, Global Times and Forbes) and representatives of the Government of the District of Chongming Island, Shanghai's ecological island and pilot territory for sustainable agriculture, which will host the China Flower Show in 2021. With Chongming the Italian System has several collaborations in the field of agriculture and food sustainability.