Conceived by the Italian Cultural Institute of Stockholm and curated by journalist Paola Carimati, "Togetherness: building alliances through Italian design" is a journey across our peninsula to discover the declinations of contemporary design in the various local territories.
Can Italian design suggest the way to imagine new post-COVID scenarios? The recent pandemic has forced us to question the relationship with material resources, gestures, social interactions, and freedom of movement. This ambitious project promoted by the Italian Cultural Institute in Stockholm makes us travel through the best creative Italy, with the stories of nine Italian designers. Between talent, experience, and connection with the territory.
While many cultural landmarks are now forcibly at a standstill, the Italian design sector seems to be dynamizing vitality capable of indicating new social and productive scenarios. The innovative capacity of design, a discipline that saw the birth of its supremacy in post-war Italy, has been activated thanks to the epochal crisis we are experiencing. With the Togetherness project, we want to tell you about the many Italian identities today committed to the construction of a different relationship with objects, of production often handmade, close to places and people.
Togetherness project is the result of a reflection on how this long period of isolation has affected the way we design. It is aimed at telling the Italian ability to cultivate relationships and build alliances for the common good.
A story made up of nine different voices, nine protagonists of the contemporary cultural scene called to represent nine themes through their work. The result is nine short videos, published from today to July 23, every Thursday, and Saturday on the Institute's social channels (Facebook, Instagram and YouTube).

The itinerary among the Italian creative excellence starts from Florence and the theme of regeneration with Duccio Maria Gambi, artist and designer, who presents the Manifattura Tabacchi, an emblematic pole of the creative reconstruction of the city. Gambi's training path reveals itself as heterogeneous as ever: from the Politecnico di Milano in Paris to his hometown – Florence – to consolidate his theoretical background, firmly rooted in the environment of the Radical Movement. Gambi moves with ease in the artisan and industrial world, with which he has developed a creative production process strongly influenced by the experience gained at the Atelier Van Lieshout in Rotterdam.
From Florence we head north to Venice, where we find the Italian designer Eugenia Morpurgo to talk with her about agriculture. Eugenia Mopurgo works as an independent designer on research and social design projects, studying the impact of production processes on society, with attention to the creation of prototypes of alternative products. After a degree in Industrial Design at the IUAV University of Venice in 2009, she moved to the Netherlands to attend the master's in social design at the Design Academy of Eindhoven, where she graduated in 2011.
In Syracuse we meet the Moncada Rangel, that is Francesco Moncada and Mafalda Rangel, Italian-Portuguese couple of architects, but also urban thinkers, interior and product designers, art directors, teachers. The Moncada Rangel aims to make the boundaries between inside and outside less clear, form and informality, authenticity and globalization, brutality and delicacy, design and randomness, originality and copy, uniqueness and standard. After working and living in different countries such as Italy, Spain, Portugal, the United Kingdom, the Netherlands, Norway, Dubai, and Sweden, in 2012 they founded their studio in Rotterdam, which is now based in Syracuse, Sicily. They are the directors of the architecture program of MADE Syracuse and are co-curators of the MADE LABS summer education program together with Formafantasma and their contribution to Togetherness addresses the theme of "The School".
Together with Davide Pippo, Salvatore Lento and Alessandro Gallo di Luce Narrante, we go up to Bologna to talk about commitment. Filmmakers and writers work on training projects for high school students, and community theatre projects, Davide, Salvatore, and Alessandro chase the truth of the world around us, chasing missing pieces scattered everywhere, outside, and inside us. Just like cinema, they also propose a different light, always new, made of images. Those images are their bread, their livelihood. With this necessity, they give life to their works; they create moving images. But under a new light, a new form of communication, a visual hybrid. So, they spend hours, days, weeks, taking care of the details of the subjects, the scripts, the working plans, the video productions.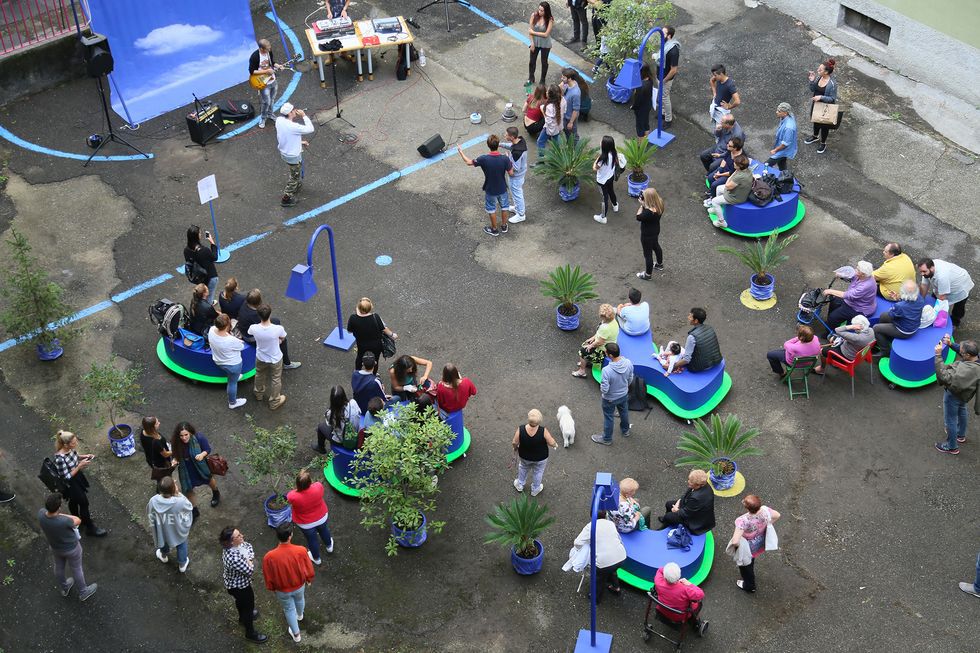 In Lecce, Francesco Maggiore, creative director of Kiasmo, a company working in the fields of art, design, fashion, and architecture, talks about the territory. Francesco Maggiore is an engineer who graduated from the Politecnico di Bari and PhD in Architecture and Urban Phenomenology at the University of Basilicata. He is Professor of Landscape History and teaches History of Contemporary Architecture at the University of the Republic of San Marino. Since 2015 has been President of the Gianfranco Dioguardi Foundation, with which has collaborated since 2010, curating cultural, editorial, and scientific research initiatives. Since 2016 he has been artistic director of the "Cantiere Evento" programme. Since 2000 he has been responsible for the Francesco Moschini Fund and member of the Board of Directors of A.A.M. Architettura Arte Moderna since 2005.
In dialogue from Olbia with Roberta Di Cosmo to Eindhoven, Marino Secco faces the value of tradition. Marino Secco grew-up in the family business, an upholstery workshop started in the same year of his birth. He spends his life in close contact with craftsmanship, which inevitably marks his destiny. His fascination for design, however, only came a long time later. After leaving university, it was the meeting in the laboratory with an architect that convinced him to enrol at the LABA – Libera Accademia di Belle Arti in Florence, where he graduated in 2017. "Sardinia? It's almost impossible to get rid of it once it gets into your heart".
With Sara Ricciardi, originally from Benevento but now moved to Milan, we tackle the theme of sharing. Sara Ricciardi is a multifaceted designer, with a career of studies in Milan, Istanbul, and New York, which led her to graduate in 2015 at the Naba – New Academy of Fine Arts. Sara Ricciardi designs products for companies, unique pieces for galleries, interiors, performances, and installations. An in-depth narrative exploration characterizes her approach: each aesthetic is the result of a precise story in which form follows the message. Significant poetic and formal research are at the milestones of her method. Materials and processes are defined each time with the help of great masters of Italian craftsmanship. In 2019 he opened his first concept store called Eden. He became art director of the project La Grande Bellezza_ The dream factory for the Starhotels group. He is part of the collective The Ladies' Room together with the designers Agustina Bottoni, Ilaria Bianchi and Astrid Luglio with whom he creates sensory projects.
Valeria Prete is a second-generation entrepreneur from Campania. She works in Tekla company, a leader in the production of windows, doors, and facades in Italy and abroad. As Head of the Research and Development department, she is committed to various research projects for the development of circular design in the building sector. President of the Gruppo Design Tessile Sistema Casa di Confindustria Salerno in 2015, she bases her mandate on teamwork and territorial networking through various projects including Young Factory Design, now in its 4th edition, Salerno Do Design, Aperitivo con il Designer. What better voice, then, to talk about "team".
Alessandra Covini and Giovanni Bellotti participate in the project to talk about coexistence from Rotterdam, where Studio Ossidiana, an award-winning architecture, design, and research studio they founded in 2015, is based. Alessandra and Giovanni are always looking for new material expressions to translate visions into engaging spaces and objects. Play, tactility and inclusiveness are the key elements of their project. Objects come to life through materials and spaces that require action, discovery, and wonder. Working on multiple scales, Studio Ossidiana makes the boundary between architecture, design, art, landscape, and urban strategy blurred. Studio Ossidiana collaborates with an international team of architects, designers and researchers and is actively involved locally and globally with projects in the Netherlands, Italy, Turkey, and the United States.
PROGRAM
CREATIVE REGENERATION – Duccio Maria Gambi, Florence: June 25, 2020
AGRICULTURE – Eugenia Morpurgo, Venice: June 27, 2020
TRAINING – Moncada Rangel, Syracuse: July 2, 2020
ENGAGEMENT – Luce Narrante + Alessandro Gallo, Bologna: July 4, 2020
ENVIRONMENT – Francesco Maggiore, Lecce: July 9, 2020
HERITAGE – Marino Secco + Roberta Di Cosmo, Olbia: July 11, 2020
SHARING – Sara Ricciardi, Milan: July 16, 2020
TEAM BUILDING – Valeria Prete, Salerno: July 18, 2020
COEXISTENCE – Obsidian Study, Rotterdam: July 23, 2020