The 37th edition of the Almada Theatre Festival, with the support of the Italian Cultural Institute of Lisbon, presents Johan Padan a la Descoverta delle Americhe by Dario Fo and Franca Rame, in the staging of Dario Fo, played by Mario Pirovano of the Compagnia Teatrale Fo Rame.
The show is a monologue in two acts narrated by Johan Padan, a Venetian fleeing the Inquisition who accompanies Christopher Columbus on his fourth voyage to the New World as the person in charge of the animals on board. After a torn shipwreck, the protagonist reaches the earth on the back of a pig and is rescued by a group of natives.
Written for the celebration of the five hundredth anniversary of Columbus' first journey to America in 1992, the text was inspired by the Nobel Prize-winning playwright from the study of the explorers' diaries of the 15th and 16th centuries, and is written in grammelot: an invented dialect that mixes the Venetian-Padan dialect with Catalan, Castilian, Occitan, Portuguese and Arabic.
The show will be held at the Salão de Festas dell'Incrível Almadense and will be subtitled in Portuguese.
SHOW TIME:
Wednesday, 7/15 to 21:30
Thursday, 7/16 at 21:30
Friday, 17/07 at 9:30 pm
Saturday, 7/7 at 15:00
Sunday, 7/7 to 15:00
On 21 July at 18:00 there will be a Meeting between Mario Pirovano and the public.
For more information click here.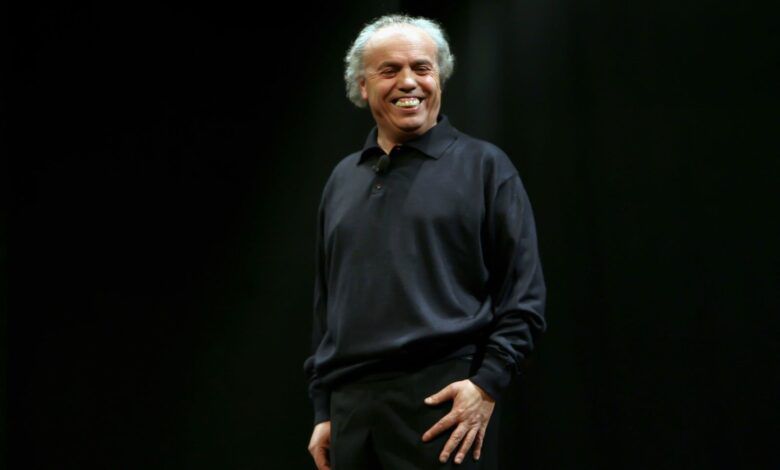 Mario Pirovano meets Fo and Rame in 1983, and in the same year he permanently joins their company where he works as translator, extra, electrician assistant, assistant machinist, responsible for the diffusion of editorial material, stage manager, assistant director, following the two actors also in international tours. He thus finds himself in a privileged position, like an artist who learns the trade directly in a Renaissance workshop: from writing the texts to the first reading with the actors, to rehearsals on stage, to the continuous changes of the work as it becomes. In 1991 Pirovano arrives to perform himself on stage with the Mistero Buffo, of which he now knows every secret.
Following Fo's model, Pirovano carries on the tradition of the ancient storytellers and jesters of every town who used only the voice and the gesture to win the attention of the audience.
Over the years he has staged in Italy and around the world, from Europe to America to Asia, Africa and Australia, some of Dario Fo's most famous monologues, also in English and Spanish: in addition to the classic Mistero Buffo, he represents Johan Padan a la Descoverta de le Americhe, Lu Santo Jullare Françescoe Il Magnifico Ruzzante, I would like to die tonight if I knew that it was no use.