The Istituto Italiano di Cultura of Toronto in partnership with the Scotiabank CONTACT Photography Festival, organizes the virtual exhibition Alberto Giuliani: San Salvatore.
The exhibition is a photographic essay on health workers on the front lines during the COVID-19 emergency: Giuliani portrayed the doctors and nurses of the San Salvatore hospital in Pesaro the city of my birth, on the most tragic days of the epidemic.
For many years, photographer and journalist Alberto Giuliani has explored scientific innovations and the efforts underway across the globe to safeguard ecological and societal longevity–from biospheres to cloning, cryopreservation, and genetic experimentation. In light of current measures to reduce the spread of COVID-19, the public installation at Brookfield Place of images from Giuliani's series Surviving Humanity (2017–18), planned for CONTACT 2020 and co-presented with the Istituto Italiano di Cultura, has been rescheduled for the 2021 Festival. Underscoring the urgency of environmental and collective action, the images in this series embody the many questions about the future that have motivated Giuliani's journeys, including the one asked by his children: "How will the world be when we grow up?" Unexpectedly, the portraits he has captured at San Salvatore Hospital evoke a disconcerting answer, and mark the beginning of a new long-term project investigating the invisibility of contemporary enemies, the spread of fear, and the resilience of humankind. They also speak to the same vital ambition that Giuliani ascribed to the subjects of Surviving Humanity: "to pursue a way to overcome the current course of events, so that we might continue our shared existence.
To view the exhibition click here.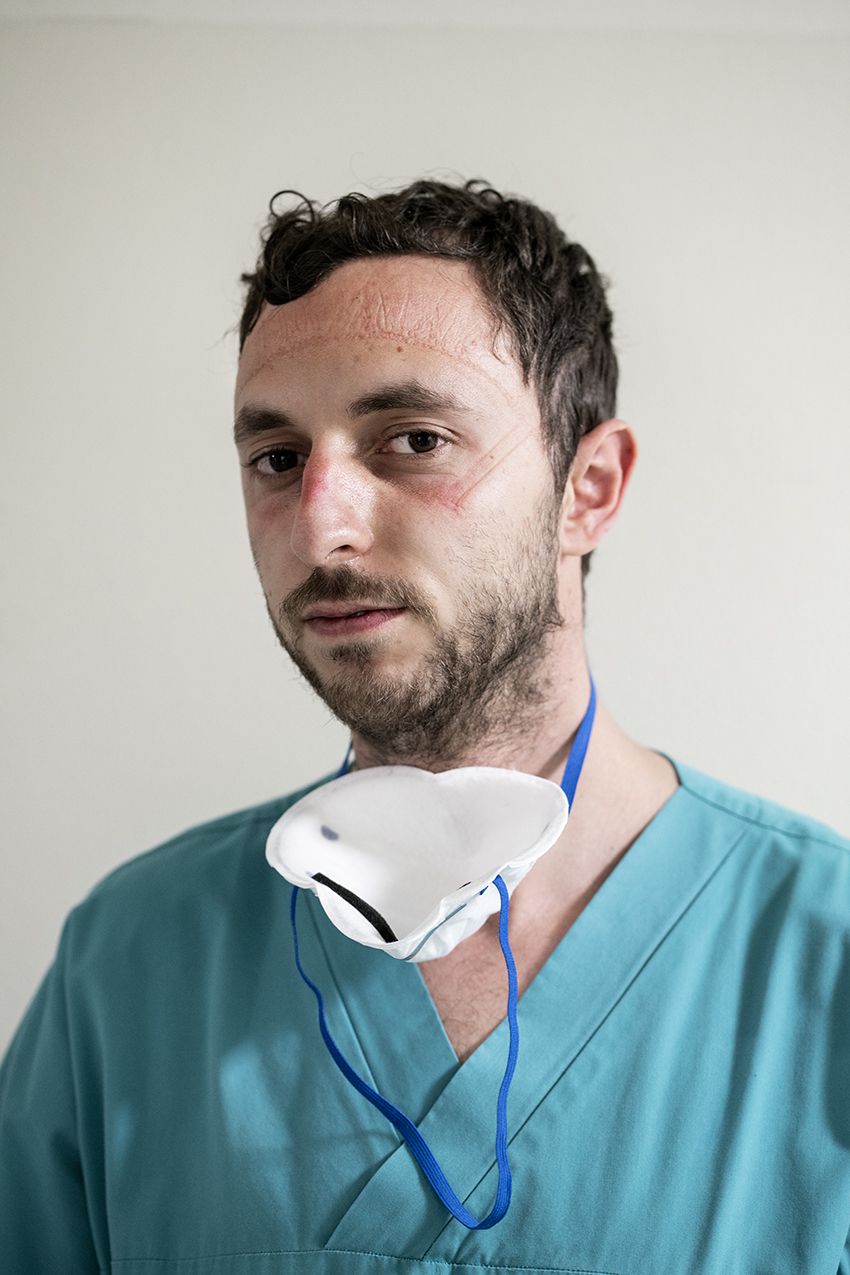 These are the doctors and nurses of the San Salvatore Hospital in Pesaro, Italy, the city of my birth and where I once again reside, which from day one has sadly been at the top of the COVID‑19 contagion and death charts. I photographed them at the end of their shifts—twelve hours without a break during their fight in an unequal war. In the quiet moments in front of my camera, these embattled individuals are in a state of total abandon, victims of an exhaustion that eats away at the body and the mind, a breathlessness that renders one disoriented, detached from time and space. They would take off their masks, caps, and gloves in front of my lens, remaining motionless, looking for some sort of normalcy amid the hell they were living.
Alberto Giuliani, Photographer