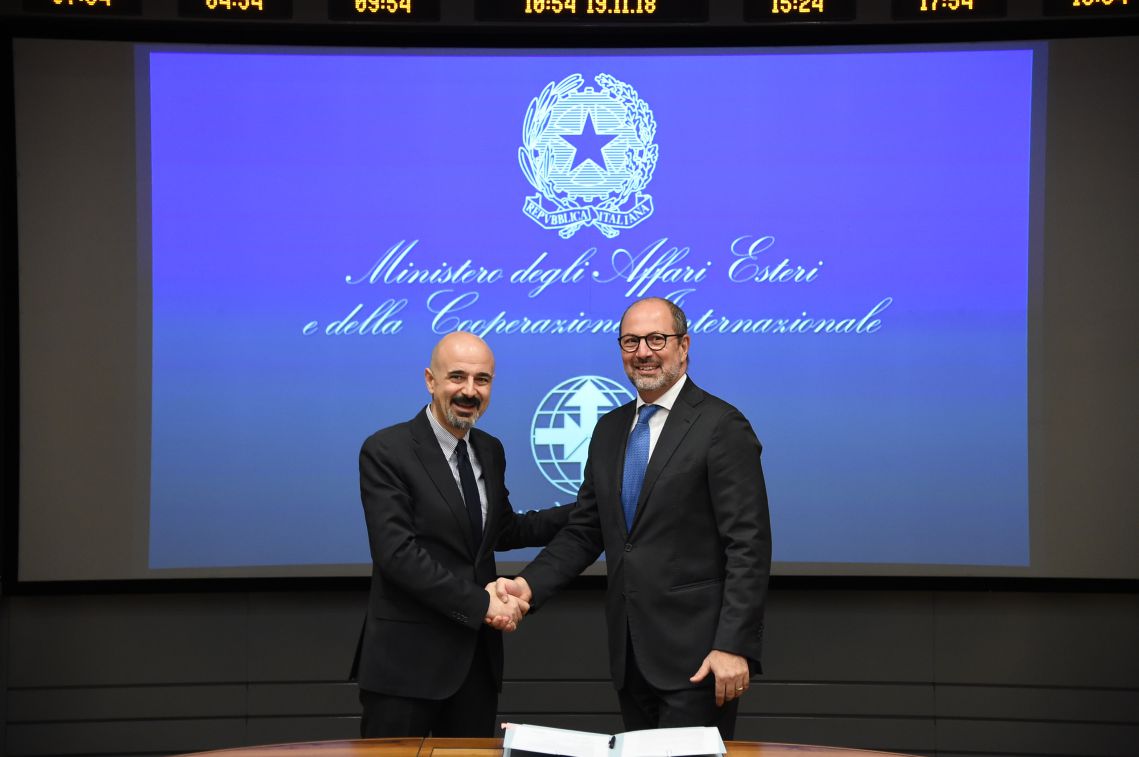 ​Protecting the safety and security of students abroad and educating them to acquire an ever more responsible and conscious style of traveling behaviour are the goals of the Convention, which was signed at the Farnesina today by the Ministry's Crisis Unit and LUISS.
It is a long-term agreement that encompasses a wide range of activities:  experimental practical workshops to be conducted within the framework of the LUISS Academic Gym; training modules on risk management; and above all an integration between the LUISS SuperAPP and the travel portals developed by the Ministry's Crisis Unit. These portals are: "
Viaggiaresicuri.it
" (Travel Safely), which gives access to updated information on security conditions of every country in the world; and "
Dovesiamonelmondo.it
" (Where we are in the world), a database with which Italian citizens are invited to register ahead of setting out on a journey abroad, with a view to remaining in contact  with the Crisis Unit should emergency situations arise.
"The Convention, which was signed today, is a milestone marking our desire to open up to the world of the University. Young people who are travelling the world at the present time are objectively exposed to that substantial change in security conditions of which we are all aware. That concerns all countries, including large cities where university institutions are located, from Paris to Berlin, from London to Barcelona, to New York," said Stefano Verrecchia, Head of the Crisis Unit of the Ministry of Foreign Affairs and International Cooperation. He added, "To continue travelling and discovering the world has become even more important today both for the development of the individual skills and capacities of our children, and to protect our model of open society. Faced with the emergence of new conflicts, terrorism and unforeseeable and ever more widespread natural catastrophes, all institutions, be they public or private, must answer to an acute need of security and protection. At the same time, it is important that every individual acquires a strong understanding of the "culture of responsible travelling" that the Crisis Unit has always been promoting. It is a major and positive challenge which we intend to face together with LUISS and its students."
LUISS has over 200 student exchange agreements, and offers over 35 double degrees and structured mobility accords with 270 universities in 53 countries. At present, there are 1,000 LUISS students participating in study courses every year in different parts of the world.
"As a University institution, we are very proud that we have adopted a security system on international mobility which can be used by all of the LUISS students. They will also be able to synchronize their travels directly through the University's app. It is a most useful opportunity to enhance each study experience abroad also  from the point of view of helping students become more aware of the leading role that our Country's institutions play in promoting the education of our young people," said the Director General of LUISS, Giovanni Lo Storto.